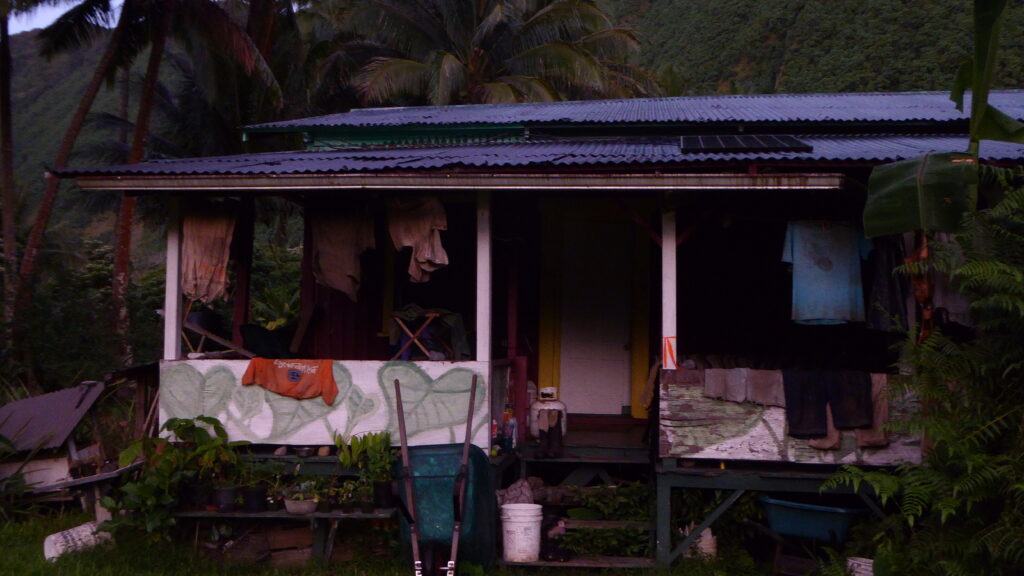 Waipi'o Valley is a sacred place for Native Hawaiians. The great unifier of the islands, King Kamehameha, used to live here, and there are burial grounds between the ironwood trees lining the beach. There are temples, and the pools fed by Hi'ilawe — the towering waterfall at the back of the valley — are where Kamehameha would bring his warriors to bathe after battle.
To visit Waipi'o Valley, you can take a 4WD tour, or go horseback riding along the taro patches and the black sand beach. Your guide will tell about the abundance of the land, how there used to be 5,000 households until a tsunami wiped the place out in 1946. How this way of life is dying, or maybe not. There are about 40 households here now, so you decide.
Given what I'd heard about the Valley, I had, well, expectations I'd be far removed from mainland worries, that it would a church-like place of silence and Hawaiian tradition. Instead, after we went to make the beds at the plantation cottage where we'd stay the night, I was giggling while following Larry, our host, back to his house.
The beach is open to the public but there's no camping, you need to be out by dark. You can arrive on your own, but only if you've got a 4WD vehicle or knees that will tolerate the steep road. Locals told me they love the beach, but a Hawaiian cultural historian told me he'd rather visitors stayed away. "There are other beaches where you don't need context when you visit." I wanted to go anyway.
On my first trip to the Big Island with my family, 20 years ago, we took a horseback tour of the Valley. I remember holding tight to the horn on the saddle; I remember the narrow trails, and the heat. I remember a teenage boy walking the other way — we stopped to let him pass — and feeling like I could hear his eyes roll when he saw us.
This ambivalence of Hawaiian locals towards tourists is long-standing — we will insist it's okay to go everywhere, even while those have lived here for generations tell us otherwise. But Hawaii pulls me in an almost physical way; it is the place I would live if only…if only I don't know what. After dozens of visits, I am mindful of where I can respectfully be, even while my curiosity still gets the better of me. And I wait to be invited.
I'd been staying with my friend Brad "up top" — that's what people in the Valley call the places they go when they leave Waipi'o. "I've got this landscaper friend up top…" or "I have to run up top to get the mail." Brad had friends in the Valley. It would absolutely be okay for us to be there as guests.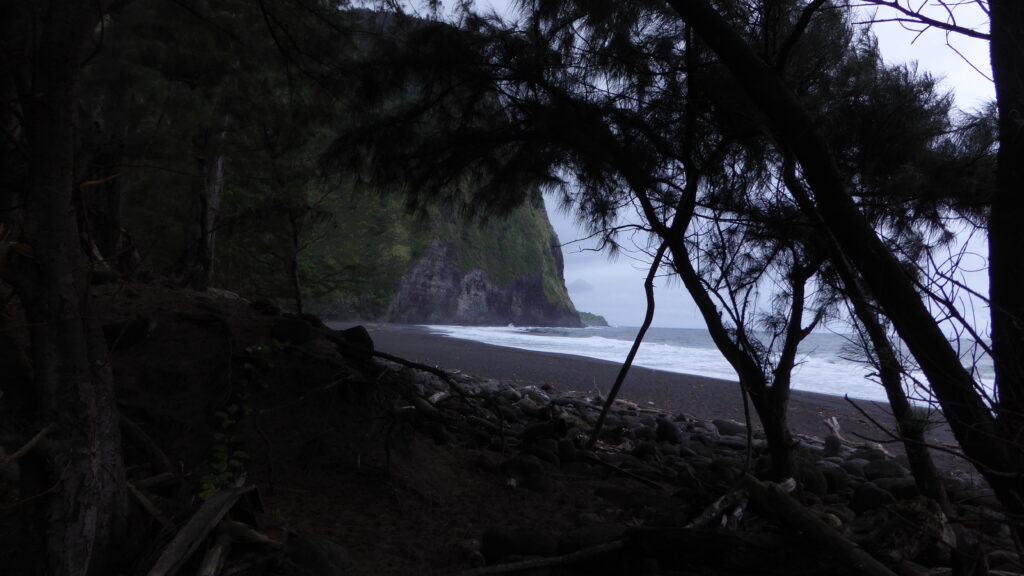 Given what I'd heard about the Valley, I had, well, expectations I'd be far removed from mainland worries, that it would a church-like place of silence and Hawaiian tradition. Instead, after we went to make the beds at the plantation cottage where we'd stay the night, I was giggling while following Larry, our host, back to his house. The trail was mud and rocks, a slippery bridge made from a scrap of plywood. Night was falling, but Larry was easy to see, a big white plastic bag slung over his shoulder, bouncing in what little reflected light was left. "Richest man in Waipi'o," Larry said, and I snickered. The bag held dozens of not quite finished rolls of toilet paper, dropped off by a friend who's a janitor up top. It's all subsistence and barter and repurposed stuff from the scrapyard in the Valley — and that applies to everything. "No, seriously," said Larry, in a wry tone, "This is like currency down here."
Larry and Doris bugged out to Waipi'o Valley more than 30 years ago. There's a whole generation of hippies here; new ones are still coming. They build makeshift camps in the dense jungle, or occupy abandoned homes. "Oh, that kid, he's from Wisconsin," said Larry. We'd met Matthias on the way down; he told us he was looking for musicians to play with. "He keeps trying to get everyone together. He does odd jobs around, painting, mowing, but sometimes, he says he's busy. I ask him with what, and he tells me how great the surfing has been."
Doris provides eldercare for a family up top, Larry works two different plots of taro and plays slack-key guitar in bars and at farmer's markets. They live in a screen porch on stilts, one room with a loft, the house pressed against the far wall of the valley. To get there, Brad and I walked down the 33 percent grade, the equivalent of 64 flights of stairs. We turned makai, towards the ocean, and a convoy of expensive 4WD extended-cab trucks, the beds full of fresh-faced early 20-something girls passed us.
"What story did you tell yourself about them?" Brad asked me.
"Sorority. Someone's dad has money."
"Church group," Brad said. "They're coming down here to be cool. Like, they're not the uptight church kids, they're the cool ones, going down Waipi'o for the afternoon."
The beach was full of hippies, including a blonde kid playing the ukulele like his life depended on it. He looked like he hadn't been inside since last spring. We couldn't hear him over the roar of the ocean but his enthusiasm was unmistakable, his strumming arm a blur. The trees lining the beach held warning signs — "Keep out, Native Hawaiian burial grounds." Everyone respected the boundaries, but otherwise it was another beach afternoon, ice chests and boom boxes blasting reggae and kids on blowup rafts in the river. The solemnity of the site was no obstacle to a Sunday barbecue.
We had to cross the river to get to Larry and Doris' place. We watched as a handful of day hikers did the same, locating the shallows. I put my shoes and my shorts on my head and stepped in. The sand was soft, the river flow strong. The water reached my rib cage and it felt good, a respite from the oppressive humidity. I made a tactical error, though. I should have taken off my shirt, too, because the water I picked up created a cloud around me, fogging my glasses, holding the heat against my skin. Inside Doris and Larry's screen porch home, I could not see a damn thing. My evening was a war on condensation. The steam cloud enveloping my body did not dissipate until after midnight, after I'd stripped off my damp things and hurled my humidity sapped body under the mosquito nets and into bed.
One of my goals for the year was to to get off the grid for a while. I wanted a cabin somewhere, a place where I could cook and read and talk with my dog about the things weighing on me. This search for required disconnection was much, much harder than you'd think. Everywhere has wifi nowadays, places that don't have running water have wifi, even. I took my phone down into Waipi'o Valley, I like to use the camera and it's full of books. But there was no signal, none. When we crossed the river, I put my phone in the plastic bag where I'd packed my toothbrush and a dry shirt, and I didn't take it out again until I set my alarm that night.
There's a radio signal at Larry and Doris' place; they can quote the public radio schedule by the hour. They have piles of ripped CDs, played through a car stereo jerry-rigged into a home entertainment system. Larry has a musician's eclectic taste; during dinner he hopped up from the table to make us listen to Yma Sumac and Martin Denny and Coltrane's long tones. Doris told me a story about reluctantly being dragged to a Zappa show in Berlin and loving it. I spent much of the evening confused about where I was. The fog on my glasses had seeped into my brain, too. The Hawaii-ness — or is it Hawaiian-ness, I don't know — of Waipi'o Valley had been displaced by a 1970s California vibe.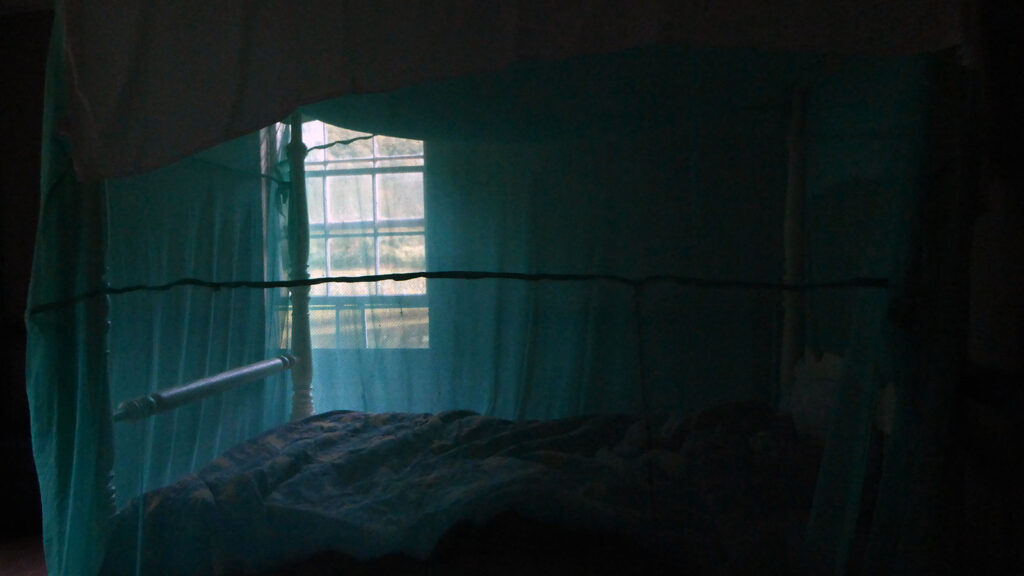 I did not sleep well. It was too hot and I drifted in and out of sticky consciousness. When I got out of bed to walk to the outhouse, the sky was clear and full of stars. It was 3 am. Two pinpoints of light — headlights — marked the road we'd walked down.
I was mostly awake when my alarm went off. I wanted to see the light come up; I wanted to wake up in this place that was so far apart and also, weirdly attached to the world by radio and toilet paper and the staggering vocal range of Yma Sumac. I sat on the front porch for a while, and then I stalked a black ibis as it legged between the taro plants. A luminous, pale pink sky gradually faded to blue, the purplish leaves of the taro reflected in the water, a white cloud of egrets crossed the opposite face of the valley, bright against the shocking green of the hillside.
Larry made oatmeal pancakes for breakfast in a big heavy skillet. I watched him grind the oats into meal, and Doris sautéed bananas in butter and cinnamon. The coffee was very good. Strong.
"Stay," they both insisted. "Hike up to the waterfall, stay another night. We'll take you up top tomorrow. Stay."
I wanted to stay and also I didn't. I wanted a shower and a good night's sleep. I wanted dry clothes. I wanted to hike the equivalent of 64 flights of stairs up top to where I could get iced tea and email. I wanted to stay for a week, to find out if I could stand the heat, if the mosquitoes would stop biting, if I could find my way around in the dark.
"I'd better walk you to the river," Larry said. "The neighbor will yell at you for trespassing. I didn't tell him we had guests." Doris came too, and the dog. At the river, she put her hand on my shoulder and looked at me so very directly before hugging me like an old friend.
---
This story first appeared in Fields & Stations. This revised version is reprinted here with permission.