The Statesider Reading List
The Statesider's reviews of US travel books all in one handy place. What counts as a US travel book? Well, lots of things, we find. American cultures, regional foods, music scenes, cities and landscapes, flora and fauna, nonfiction and fiction, even the occasional cookbook. America encompasses many things, and so does this list.
Want to recommend great US travel books or something else that just seems right in The Statesider's wheelhouse? We'd love to know! Drop us a line.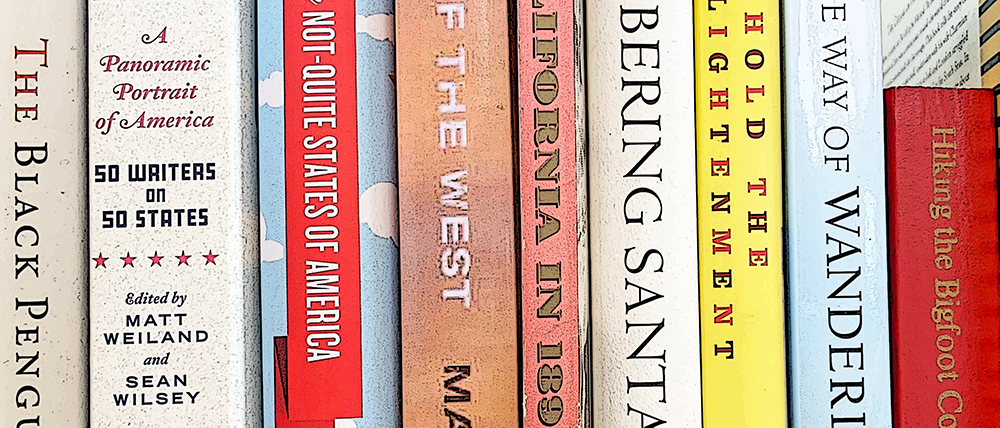 2019 US Travel Books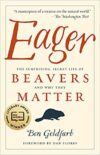 Andy's Summer Read Pick:
Eager: The Surprising Secret Life of Beavers and Why They Matter, by Ben Goldfarb. "Trying to mitigate floods or improve water quality? There's a beaver for that. Hoping to capture more water for agriculture in the face of climate change? Add a beaver." Travel along with writer Ben Goldfarb in this hugely entertaining journey into the world of one of America's most notorious, industrious, and misunderstood residents. Winner of the 2019 PEN/E.O. Wilson Literary Science Writing Award, and one of my favorite environmental reads from the past year, this charming science meets travel meets lots and lots of beavers tale will make you reassess everything you think you know about our dam-building friends. Amazon | Your Local Indie Bookstore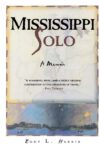 Doug's Summer Read Pick:
Mississippi Solo, by Eddy Harris. I live a few blocks from the Mississippi River, and sometimes forget that it's not just a banal local landmark. Eddy Harris has no such illusions. The river, he writes, "is laden with the burdens of a nation." This poetic travelogue about his canoe trip down the waterway's two-thousand-mile length captures the spirit of each paddle-stroke and stopover, with added poignancy coming from Harris's status as a young black man traveling alone. People stare in Minnesota; there are racists with shotguns in Arkansas — and, throughout the book, there are plenty of unexpected welcomes. It's all a hell of a personal journey but also, quietly, a striking portrait of a nation. Amazon | Your Local Indie Bookstore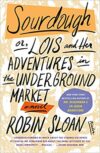 Pam's Summer Read Pick:
Sourdough by Robin Sloan. A friend recently read this book and found it delightful but so odd that it's not for everyone. "You might like it," she told me. Here's how right she was: I'd read it already and yeah, it's odd. It's part Silicon Valley, part immigrant story, part weird punk farmer's market, and one of the main characters is a batch of sourdough starter. The other main character, Lois Clary, is a robotics engineer who teaches a robot she's working on to knead bread. The book is about food and finding your tribe and oh, just read it, it's a delight. Also, I now tend to my own starter, in no small part because of this book. I'm not nearly as good to mine as Lois is to hers — she plays music for it — but my bread isn't bad. Amazon | Your Local Indie Bookstore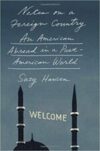 Notes on a Foreign Country: An American Abroad in a Post-American World by Suzy Hansen: There many narratives about travelers heading into the world to discover themselves, not nearly as many about those who have left US borders to discover America. Hansen digs deep — so deep it hurts — into the impact America global policy has had on the world and on our identity. Ya got yer CIA, yer Marshall Plan, yer covert Central American ops, and if you consider yourself a self-aware American, you might nod your head with a wry "ouch." But there are also Turkish highways, the Iowa Writers Workshop, Time Magazine, Billy Joel's We Didn't Start the Fire, and so much more. It's a tough read, but not because of the writing. It's the harsh light of self examination that makes this difficult … and essential. Amazon | Your Local Indie Bookstore

Zoo Nebraska by Carson Vaughan. The escaped chimps were the last straw, the end of a dream. The Statesider's Pam Mandel talks with author Carson Vaughan about his new book, Zoo Nebraska, the story of a small town that never lived up to its big ambitions. Read the Statesider interview with Carson Vaughan and find the book on Amazon or from your local indie bookstore.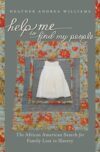 Help Me to Find My People by Heather Andrea Williams. Pieced together from newspaper ads, oral history accounts, and historical documents, this book tells the stories of families built and broken during and after the end of American slavery. The clear-eyed journalistic presentation of the facts doesn't take away from the horror of the era at all; it underscores how dehumanized, how much of commodity, the stolen people were. Amazon | Your Local Indie Bookstore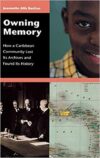 Owning Memory: How a Caribbean Community Lost Its Archives and Found Its History by Jeannette Allis Bastian. Who is the gatekeeper of history? Whose stories get held up as the most important? We're constantly grappling with these questions, but they're especially complex in the U.S. Virgin Islands. The territory was a Danish colony before 1917, and many of its historical documents are held in Copenhagen. This academic but accessible book offers a fascinating look at the politics of storytelling in a land of colonialism. Amazon | Your Local Indie Bookstore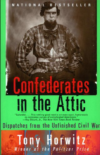 All the Tony Horwitz books: American history, in all its complexity, was one of the late author's primary muses. Horwitz was a master at combining deep research with romping-fun travelogue, and connecting past to present in ways both intriguing and, at times, unsettling. It's hard to pick a favorite of his USA- focused books; really, you should just read them all.
Confederates in the Attic, about the Civil War and the ways the Lost Cause persists today.
A Voyage Long and Strange, about the Europeans who settled in the USA before the Pilgrims.
The Devil May Care, featuring profiles of fifty lesser-known American adventurers.
Midnight Rising, a deep dive into the history of John Brown's Raid.
Spying on the South, Horwitz's brand-new travelogue, about Frederick Law Olmstead's tour of the American South in the 1850s.
Tony Horwitz's Books on Amazon | Your Local Indie Bookstore

Americanah by Chimamanda Ngozi Adichie. This story about a young woman who leaves Nigeria for the United States — and then decides to go home again after many years in the U.S. — is full of insight about what it means to be American, both from the idealized point of view of an outsider and from the changing perspective of an immigrant who becomes an insider. Amazon | Your Local Indie Bookstore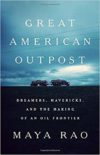 Great American Outpost by Maya Rao. What would it look like if the Gold Rush happened today—the crazed race for wealth, the environmental destruction, the utter disregard for law and order—but most of the country didn't even notice? It would look exactly like the Bakken oilfields of western North Dakota (see the mysterious patch of light in the map above). Rao immerses herself in the culture and characters of the Bakken at the peak of the oil boom, in a piece of nonfiction that reads like a gripping Western. Amazon | Your Local Indie Bookstore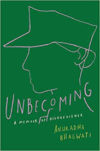 Unbecoming: A Memoir of Disobedience by Anuradha Bhagwati. The daughter of Indian immigrants (and academics), Bhagwati chooses to not to follow in her family's footsteps and joins the Marines. A driven, ambitious recruit, she becomes a leader in a culture that—spoiler alert—is rife with toxic misogyny. As if it's not badass enough of her to navigate the system and excel, she becomes a whistle blower and activist, working to change the entrenched values of the U.S. Military. What's it mean to "support the troops"? Bhagwati has some thoughts. Amazon | Your Local Indie Bookstore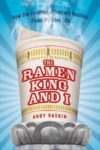 The Ramen King and I by Andy Raskin. Those squiggly blocks of noodles their associated packets are an essential and underappreciated companion to broke college students and car campers alike. In "The Ramen King and I," Andy Raskin becomes obsessed with Momofuku Ando, the inventor of Top Ramen and Cup Noodles. Along the way the Japanese businessman — who spent a year in his shed developing the iconic product — becomes both a distraction from and a solution to Raskin's relationship problems. If you think that's a weird idea for a book, you'd be correct. It would be easy to write Raskin off as a messed up tech bro, but he's an increasingly sympathetic narrator as he reveals his struggles. Plus, I learned a lot of odd and tragic things about noodles and the US occupation of post WWII Japan. Amazon | Your Local Indie Bookstore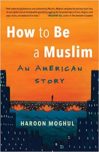 How to Be a Muslim, An American Story by Haroon Moghul. In the wake of 9/11 (moment of silence for everything we've lost) Moghul became an unlikely activist for Muslim-Americans and ended up Kind of a Big Deal. Growing up in New England, Moghul liked Green Day and was confused by dating and went on adventures that his parents wouldn't have approved of and acted like any other American teenager. As an adult, he navigated depression and career angst and the challenges of marriage. Like Americans of any faith, he grappled with how—or if—to fit religion into his life. It should not feel revolutionary to read a book from a Muslim point of view that expresses this universal story of a young American coming of age and reaching peace with his faith, and yet. And yet. Amazon | Your Local Indie Bookstore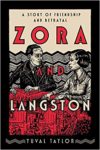 Zora & Langston: A Story of Friendship and Betrayal by Yuval Taylor. In 1927, Langston Hughes bumped into Zora Neale Hurston in Mobile, Alabama. The two friends, both literary luminaries of the day, decided to set out together on a road trip through the South in Zora's two-seater Nash coupe, nicknamed "Sassy Susie," in search of folks songs, stories and "big old lies," as Langston put it. The book covers much more ground than a summer road trip through the South, charting the long course of Zora and Langston's doomed friendship, but Taylor skillfully anchors the story in time and place throughout, from the palatial Fifth Avenue Restaurant where the two first met to a visit with a backwoods "conjur-man," all bolstered by Langston's journals and correspondence between the two in the happier days when Zora would call Langston "the nearest person to me on earth." Amazon | Your local indie bookstore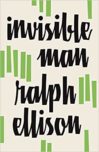 Invisible Man by Ralph Ellison. There's no shortage of smart writing about this story of a young black man trying to find his place in the 1940s, first at a black college, then in New York City as part of "The Brotherhood." But Ellison wrote his book five years before Jack Kerouac wrote "On the Road," and the musicality of the language, the dialog, even the psychedelic ramblings are far superior to Kerouac's. It feels a glaring oversight not to have read "Invisible Man" much, much sooner, though it is just as valuable a read in today's America. Amazon | Your local indie bookstore

The Red Truck Bakery Cookbook by Brian Noyes and Nevin Martell. It's impossible not to mention one particular fan of this rural Virginia bakery, some 50 miles west of the nation's capital, who said: "I like pie. That's not a state secret…I can confirm that Red Truck Bakery makes darn good pies." (Now read that again in President Obama's voice.) His favorite is said to be the sweet potato pecan, but I immediately bookmarked the pink-hued watermelon pie to come back to when summer melons arrive, and jumped on the pumpkin pie with the clever addition of homemade caramel mixed into the pumpkin custard. Amazon | Your local indie bookstore | Red Truck Bakery's Shop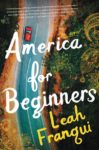 America for Beginners by Leah Franqui. After her husband dies, Pival Sengupta books herself on a tour of the United States with the First Class India USA Destination Vacation Tour Company. The trip is a cover Mrs. Sengupta's search for her estranged son. Satya, her guide, and Rebecca, her companion, are both uniquely unqualified for the roles they're called upon to fill, their itinerary is inscrutable — the Corning Museum of Glass? — and they eat in countless Indian restaurants. The trip seems such a weird way to see America, but the travel itself isn't the point. I was charmed by this bittersweet and delightful book — plus, it would make a great movie.
Amazon | Your local indie bookstore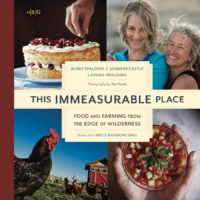 This Immeasurable Place: Food and Farming from the Edge of Wilderness by Blake Spalding, Jennifer Castle and Lavinia Spalding. Reading "The Cabin" (from Longreads linked above), brought to mind this book, one of the more remarkable cookbooks in recent years. Yes, there are recipes — delightful ones from The Hell's Backbone Grill & Farm, the three-time James Beard Award semifinalist in remote Boulder, Utah — but this is a cookbook you'll want to sit down and read for its cast of characters, handmade wisdom and deep love of the wild landscapes of southern Utah.
Hell's Backbone Shop | Amazon | Your local indie bookstore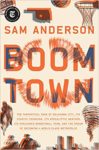 Boom Town: The Fantastical Saga of Oklahoma City, Its Chaotic Founding, Its Apocalyptic Weather, Its Purloined Basketball Team, and the Dream of Becoming a World-Class Metropolis by Sam Anderson. You might think a subtitle that long would cover the scope of the book. You might also think a book on Oklahoma City could be dry as plain white toast. Wrong on both accounts.
Amazon | Your local indie bookstore
"I have come to believe, after my time there, that Oklahoma City is one of the great weirdo cities of the world — as strange, in its way, as Venice or Dubai or Versailles or Pyongyang. It is worth paying attention to, on its own terms, independent of any news cycle, strictly for the improbability of what exists there, all the time, ever day." — Sam Anderson, Boom Town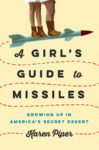 A Girl's Guide to Missiles: Growing Up in America's Secret Desert by Karen Lynnea Piper.
Sure, you could shelve this with the "coming of age" memoirs, but it takes place on a secure missile base where Piper's parents both worked on weapons development (her mom was something of a math genius). The weirdness of an American era that gave us Charles Manson, the Lemurians, and the Sidewinder missile — everything comes to life. You can practically see yourself there. What great read.
Amazon | Your local indie bookstore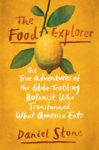 The Food Explorer by Daniel Stone.
Much of the American diet originated elsewhere in the world. Meet David Fairchild, the adventurous botanist who changed what's on the stateside plate.
Amazon | Your local indie bookstore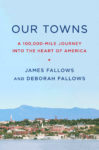 Our Towns: A 100,000-Mile Journey into the Heart of America by James & Deborah Fallows.
If it seems like all you ever hear about small-town America are tales of hardship and lost glory, this is a refreshing read. Change is afoot across the country – and you might want to pay attention to what's going on in local libraries.
Amazon | Your local indie bookstore