The Statesider Reading List
Wouldn't it be nice if all of The Statesider book reviews were in one handy place where everyone could find them? It just so happens that this is that place: every book on US travel, American cultures, regional foods, music scenes, cities and landscapes, reviewed by The Statesider.
Want to recommend a great book on American travel, culture, food, landscapes or something else that just seems right in The Statesider's wheelhouse? We'd love to know! Drop us a line.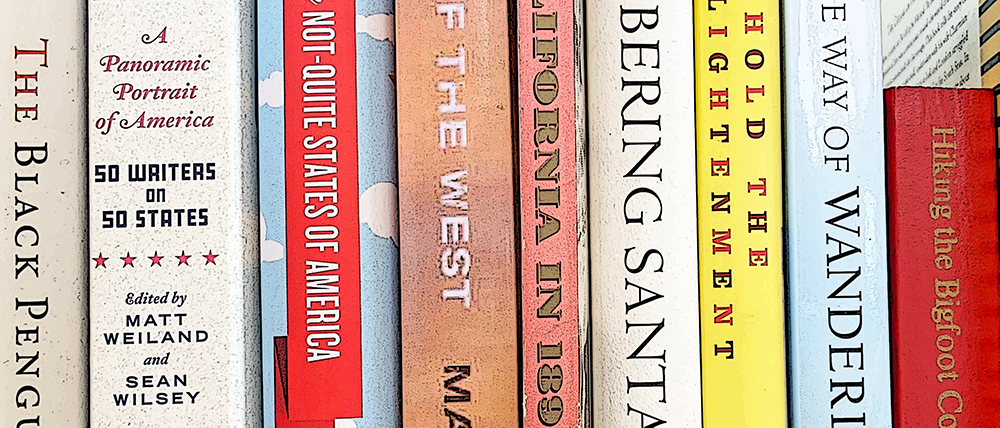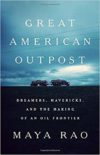 Great American Outpost by Maya Rao. What would it look like if the Gold Rush happened today—the crazed race for wealth, the environmental destruction, the utter disregard for law and order—but most of the country didn't even notice? It would look exactly like the Bakken oilfields of western North Dakota (see the mysterious patch of light in the map above). Rao immerses herself in the culture and characters of the Bakken at the peak of the oil boom, in a piece of nonfiction that reads like a gripping Western. Amazon | Your Local Indie Bookstore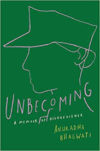 Unbecoming: A Memoir of Disobedience by Anuradha Bhagwati. The daughter of Indian immigrants (and academics), Bhagwati chooses to not to follow in her family's footsteps and joins the Marines. A driven, ambitious recruit, she becomes a leader in a culture that—spoiler alert—is rife with toxic misogyny. As if it's not badass enough of her to navigate the system and excel, she becomes a whistle blower and activist, working to change the entrenched values of the U.S. Military. What's it mean to "support the troops"? Bhagwati has some thoughts. Amazon | Your Local Indie Bookstore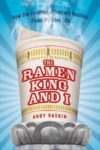 The Ramen King and I by Andy Raskin. Those squiggly blocks of noodles their associated packets are an essential and underappreciated companion to broke college students and car campers alike. In "The Ramen King and I," Andy Raskin becomes obsessed with Momofuku Ando, the inventor of Top Ramen and Cup Noodles. Along the way the Japanese businessman — who spent a year in his shed developing the iconic product — becomes both a distraction from and a solution to Raskin's relationship problems. If you think that's a weird idea for a book, you'd be correct. It would be easy to write Raskin off as a messed up tech bro, but he's an increasingly sympathetic narrator as he reveals his struggles. Plus, I learned a lot of odd and tragic things about noodles and the US occupation of post WWII Japan. Amazon | Your Local Indie Bookstore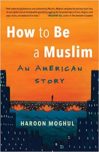 How to Be a Muslim, An American Story by Haroon Moghul. In the wake of 9/11 (moment of silence for everything we've lost) Moghul became an unlikely activist for Muslim-Americans and ended up Kind of a Big Deal. Growing up in New England, Moghul liked Green Day and was confused by dating and went on adventures that his parents wouldn't have approved of and acted like any other American teenager. As an adult, he navigated depression and career angst and the challenges of marriage. Like Americans of any faith, he grappled with how—or if—to fit religion into his life. It should not feel revolutionary to read a book from a Muslim point of view that expresses this universal story of a young American coming of age and reaching peace with his faith, and yet. And yet. Amazon | Your Local Indie Bookstore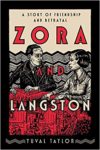 Zora & Langston: A Story of Friendship and Betrayal by Yuval Taylor. In 1927, Langston Hughes bumped into Zora Neale Hurston in Mobile, Alabama. The two friends, both literary luminaries of the day, decided to set out together on a road trip through the South in Zora's two-seater Nash coupe, nicknamed "Sassy Susie," in search of folks songs, stories and "big old lies," as Langston put it. The book covers much more ground than a summer road trip through the South, charting the long course of Zora and Langston's doomed friendship, but Taylor skillfully anchors the story in time and place throughout, from the palatial Fifth Avenue Restaurant where the two first met to a visit with a backwoods "conjur-man," all bolstered by Langston's journals and correspondence between the two in the happier days when Zora would call Langston "the nearest person to me on earth." Amazon | Your local indie bookstore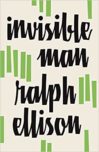 Invisible Man by Ralph Ellison. There's no shortage of smart writing about this story of a young black man trying to find his place in the 1940s, first at a black college, then in New York City as part of "The Brotherhood." But Ellison wrote his book five years before Jack Kerouac wrote "On the Road," and the musicality of the language, the dialog, even the psychedelic ramblings are far superior to Kerouac's. It feels a glaring oversight not to have read "Invisible Man" much, much sooner, though it is just as valuable a read in today's America. Amazon | Your local indie bookstore

The Red Truck Bakery Cookbook by Brian Noyes and Nevin Martell. It's impossible not to mention one particular fan of this rural Virginia bakery, some 50 miles west of the nation's capital, who said: "I like pie. That's not a state secret…I can confirm that Red Truck Bakery makes darn good pies." (Now read that again in President Obama's voice.) His favorite is said to be the sweet potato pecan, but I immediately bookmarked the pink-hued watermelon pie to come back to when summer melons arrive, and jumped on the pumpkin pie with the clever addition of homemade caramel mixed into the pumpkin custard. Amazon | Your local indie bookstore | Red Truck Bakery's Shop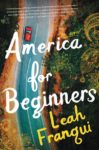 America for Beginners by Leah Franqui. After her husband dies, Pival Sengupta books herself on a tour of the United States with the First Class India USA Destination Vacation Tour Company. The trip is a cover Mrs. Sengupta's search for her estranged son. Satya, her guide, and Rebecca, her companion, are both uniquely unqualified for the roles they're called upon to fill, their itinerary is inscrutable — the Corning Museum of Glass? — and they eat in countless Indian restaurants. The trip seems such a weird way to see America, but the travel itself isn't the point. I was charmed by this bittersweet and delightful book — plus, it would make a great movie.
Amazon | Your local indie bookstore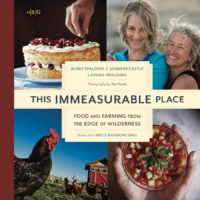 This Immeasurable Place: Food and Farming from the Edge of Wilderness by Blake Spalding, Jennifer Castle and Lavinia Spalding. Reading "The Cabin" (from Longreads linked above), brought to mind this book, one of the more remarkable cookbooks in recent years. Yes, there are recipes — delightful ones from The Hell's Backbone Grill & Farm, the three-time James Beard Award semifinalist in remote Boulder, Utah — but this is a cookbook you'll want to sit down and read for its cast of characters, handmade wisdom and deep love of the wild landscapes of southern Utah.
Hell's Backbone Shop | Amazon | Your local indie bookstore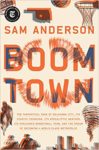 Boom Town: The Fantastical Saga of Oklahoma City, Its Chaotic Founding, Its Apocalyptic Weather, Its Purloined Basketball Team, and the Dream of Becoming a World-Class Metropolis by Sam Anderson. You might think a subtitle that long would cover the scope of the book. You might also think a book on Oklahoma City could be dry as plain white toast. Wrong on both accounts.
Amazon | Your local indie bookstore
"I have come to believe, after my time there, that Oklahoma City is one of the great weirdo cities of the world — as strange, in its way, as Venice or Dubai or Versailles or Pyongyang. It is worth paying attention to, on its own terms, independent of any news cycle, strictly for the improbability of what exists there, all the time, ever day." — Sam Anderson, Boom Town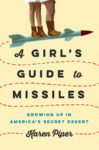 A Girl's Guide to Missiles: Growing Up in America's Secret Desert by Karen Lynnea Piper.
Sure, you could shelve this with the "coming of age" memoirs, but it takes place on a secure missile base where Piper's parents both worked on weapons development (her mom was something of a math genius). The weirdness of an American era that gave us Charles Manson, the Lemurians, and the Sidewinder missile — everything comes to life. You can practically see yourself there. What great read.
Amazon | Your local indie bookstore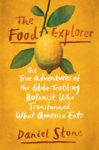 The Food Explorer by Daniel Stone.
Much of the American diet originated elsewhere in the world. Meet David Fairchild, the adventurous botanist who changed what's on the stateside plate.
Amazon | Your local indie bookstore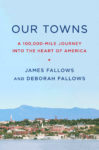 Our Towns: A 100,000-Mile Journey into the Heart of America by James & Deborah Fallows.
If it seems like all you ever hear about small-town America are tales of hardship and lost glory, this is a refreshing read. Change is afoot across the country – and you might want to pay attention to what's going on in local libraries.
Amazon | Your local indie bookstore