We're big fans of a classic American diner here at The Statesider. Britta Shoot has more discerning taste: she prefers her diner breakfasts with a side of planespotting.
---
The tabletops were sticky, and across the living room-like space lit by late morning yellow light, a small child appeared to be crushing a crayon against a laminated placemat. Another child, buried in a small pile of plastic toys, rocked vigorously in a faded beige armchair. A woman I assume was their guardian sidled up. "What can I get ya?" My spouse and I exchanged a glance. We were the only people in the restaurant, if you could call it a restaurant.
After picking our standards—veggie omelet for me, waffles for him—I stirred single-serve creamers into a thick-walled mug of coffee and waited impatiently for something exciting to happen outside. The plastic miniblinds covering the nearest window were turned open, but outside, the airfield was devoid of traffic. No other customers entered; our tired server seemed to be running the entire operation, cooking in the back while occasionally emerging to refill my cup. The whole time we were eating, I don't think we saw a single plane take off or land.
We were driving home to San Francisco—detouring through the last sizable town along the 101 for a while—and instead of pulling over at a chain restaurant, we were eating breakfast at the café located at the Murray Field Airport outside of Eureka.
While I'm not a pilot, I am enamored with most aspects of flight. Small airports, in particular, tend to have their own charms and quirks. Witness the jigsaw puzzle laid out for anyone passing through Knox County Regional Airport on the southern coast of Maine, or the imposing snow globe collection—colorful offerings from locals traveling home again—spread across at the check-in counter at Provincetown Municipal Airport on the tip of Cape Cod.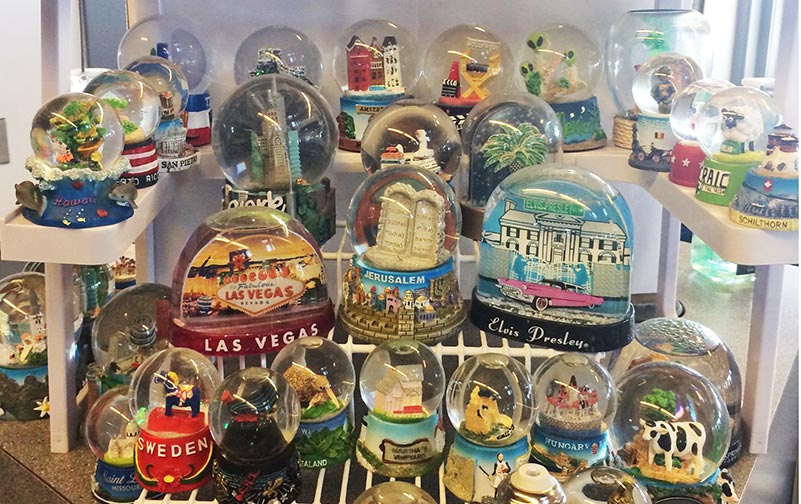 The same is true of the cafés operating at regional airports. I'm a hardcore road-tripper and I often plan my driving routes to include these odd little outposts, which I experience as one of the most obvious indicators of where I am and what the local culture is like. That, and who doesn't like all-day diner brunch?
My Danish-born husband is delighted by the iconography of American chain restaurants, but after spending a few teenage years working at an Applebee's, neither of us has a real fondness for what always seems like food made with minimal care and little seasoning besides salt. When we moved to Northern California a decade ago, I was quickly introduced to and then became personally enthralled with the diners at our closest coastal airports. Often overlooked by the general public, these small cafés have wonderfully punny, aviation-related names and serve unpretentious, filling fare, often at reasonable prices and with no wait to be seated.
Like the best sidewalk cafés, airfields are at once breezy and sterile, and incredibly bizarre.
This probably wouldn't have become a personal preoccupation if we didn't live within a 45-minute drive of the gold standard, the 3-Zero Cafe in Half Moon Bay. South of Pacifica, Highway 1 meanders through seaside bluffs until it curves inland and narrows to two lanes. A deep fog is often smothering the fields of Brussels sprouts on the approach to the 3-Zero, which emerges on the right side of the road like an aircraft coming out of the clouds.
After walking a blacktop sidewalk painted to look like a runway, guests can wait for their table next to the actual runway or in the pilot's lounge, where you can pick through free copies of old aviation magazines in a brown cardboard box. Dozens of toy planes hang from the ceiling, and air travel memorabilia and photos of local history adorn the walls. Servers who are actual pilots are known to shout "Roger!" after taking your order. The manager, also a real-life pilot when he isn't serving Plane Omelets (get it?) or burgers named for strategic bombers and fighters (B-52, B-29, P-51), wears Hawaiian-style shirts that depict aircraft in the pattern.
I should say, it was like that. The 3-Zero was brought in for an abrupt, unscheduled landing in 2019 to the disappointment of hungry pilots, loyal locals, curious tourists, highway cops out on patrol, and me.
That's the other thing about airport diners. A few can sustain economic updrafts and headwinds for the long haul, but many are ephemeral, fly-by-night operations. The drably charming spot near Eureka, the Hangar Café, has been shuttered for several years with no other snack shack or restaurant replacing it.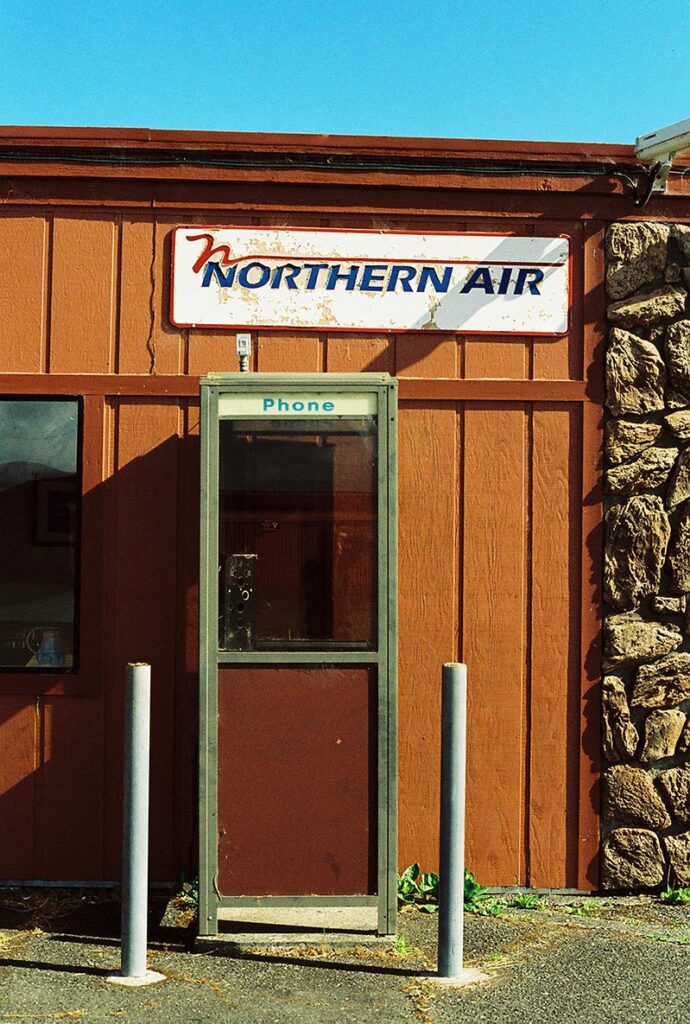 ---
Despite the Americana vibe of most airport cafes, my preoccupation with them began when I lived abroad and frequented the Flight Grille, a grease-stained, rickety shack of a diner by the runway at the Copenhagen Airport. The fare is fine—semi-soggy crinkle fries, cake cones of drippy vanilla soft serve—but what really captivated me were the devoted planespotters who would stay for hours, radio antennas aloft, logbooks at the ready. There's nothing but a chain link fence separating diner guests at picnic tables from the runways and planes. Post 9-11, it seems a strange novelty that the place still exists.
And yet, part of the reason any of these places endure—and no doubt why the concessionaires change every few years, revamping the menu and décor and often updating the name to reflect the restaurant's new identity—is that no matter what horrible catastrophe touches down, people still have to travel, and everyone has to eat. Our global interdependence can't be reversed. And while regional flights may feel like a luxury to many in developed areas where driving is feasible or mass transit is a desirable option, it's worth remembering that cultivating and maintaining a whimsical fondness for air travel can defeat the frustration of long security queues or the soreness of a cramped seat.
Years ago, in a fit of plane passion, I signed up for a flight lesson on one of those daily deals websites that barely exist now. After sitting in a flight simulator for about 25 minutes, I shared the controls with a young male pilot who seemed excited to fly but disinterested in helping me join his ranks. I have enough self-motivation that I didn't need his enthusiasm, and in fact, what I learned that day, wobbling over the San Francisco Bay, was that I'd much rather leave the flying to experienced professionals so I can enjoy the view. Watching them train even works for me, too.
An hour north of our San Francisco home, past lush, quiet, preserved open spaces, emerges the Petaluma Municipal Airport. The airfield has one paved runway, and the unexpectedly inviting Two-Niner Diner has one generous, shady porch and serves big waffles, delicious coffee cake, and hearty lunchtime club sandwiches. Because so many would-be pilots train there, the backdrop to any brunch is what seems like an endless loop of touchdowns. Like the best sidewalk cafés, airfields are at once breezy and sterile, and incredibly bizarre. At one point, we saw a man walking along, casually pulling a helicopter behind him.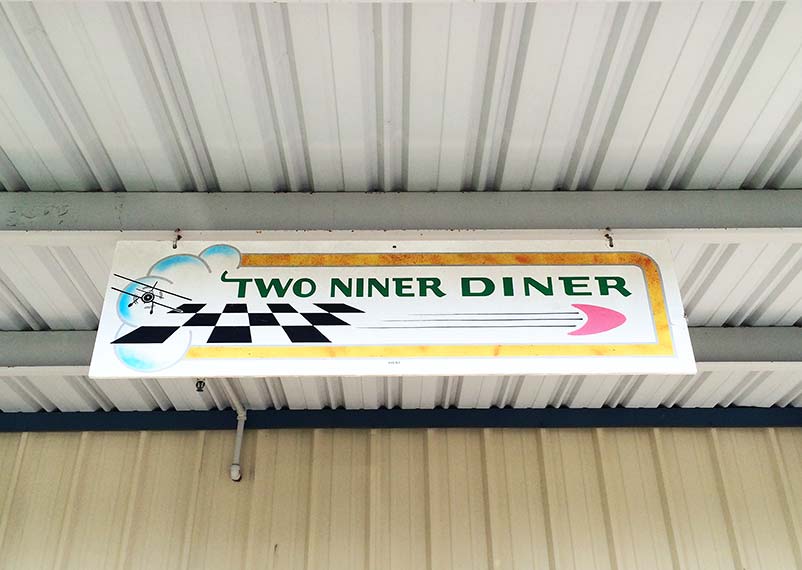 For the same reasons I savor the chance to bum around an airport terminal, I love the anonymity and serviceability of most airport diners. At The Airpark Café, located at Redding Municipal Airport, we were the only customers one chilly morning. The friendly two-person staff seemed completely unsurprised that two non-pilots drove in from the highway, and scanning the menu, I was delighted to see specials with names like The Navigator. Sure, our clothes stunk of diner grease as we headed back to the car. But we agreed, not for the first time, that stopping anywhere more obvious, convenient, and commercial would have been a mistake.
---
After finishing my scrambled eggs at the Sky Kitchen in San Carlos on a sunny Saturday afternoon not long ago, I ducked into the onsite shop to survey the Pan Am trinkets and small craft parts and accessories. The old-timer behind the counter shared his amazement with me that women are now in the Navy, while I considered some industrial-grade bag tags and gave him a tight-lipped smile. I understood his habitual chatter; this spot tends to be busier than most. Off Interstate 101, it's next to the family-friendly Hiller Aviation Museum. What chaotic, dusty charm the rather polished Sky Kitchen lacks by being so close to Silicon Valley, it almost balances out with a funky Z-shaped bar in the middle of the room and the haphazard offerings in the retail store.
When I finally selected and paid for a laminate tray depicting aeronautical charts of the San Francisco Bay Area, he didn't ask if I'm a pilot.
Obviously, it doesn't matter.