For a time, Rachel-Heston Davis suffered from lilapsophobia: the unhealthy fear of tornadoes. (If you had asked her at the time, she would've told you it was quite healthy, in fact totally rational, to fear tornadoes.) That fear turned to fascination over time, and a particular fascination with the many memorials to historic tornadoes across America. There are a lot of them.
---
On the day I thought I would die, the western sky glowed a watery shamrock green. Everything else was black. I crouched in the dark with the rest of the senior class, our foreheads pressed to metal lockers while the skylights rattled above us in the roaring storm.
The latches holding the skylights gave way and the panels crashed open, drawing a collective scream from the student body and showering us with hail pellets.
Outside, a state trooper watched a funnel cloud spin lazily over the school. It hesitated, deciding whether to drop and finish us, but finally moved on. It left power lines in the road and a tree on my best friend's house.
Just another day in Middle America.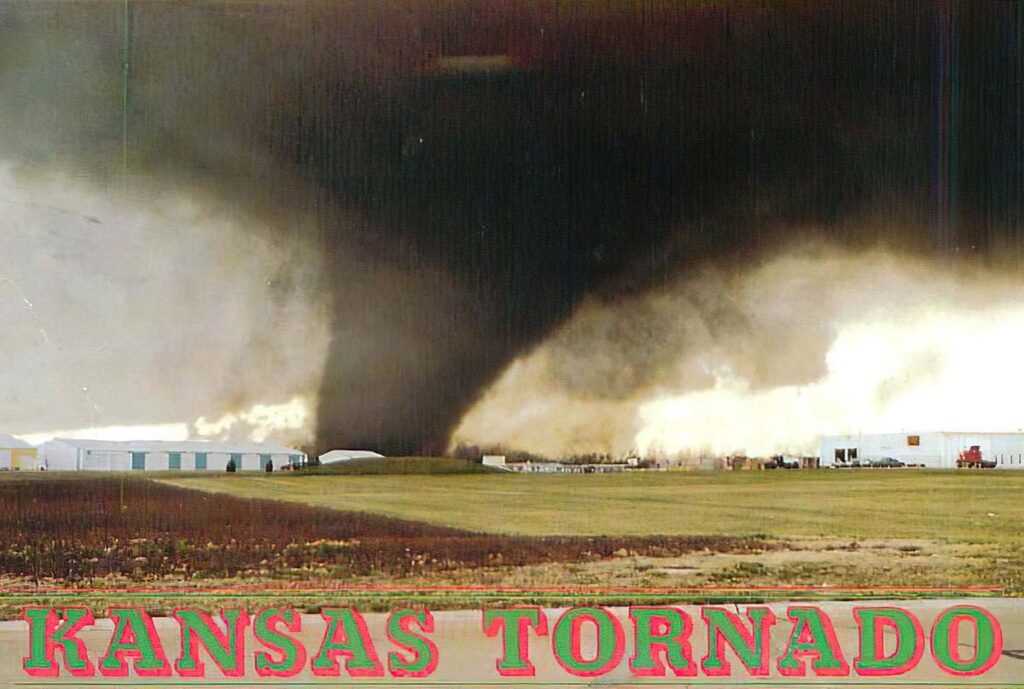 If there's anything more American than apple pie, it's tornadoes. The U.S.A.'s weather patterns and topography make us a tornado manufacturing plant. Each year we produce about 1,200 twisters (the runner-up, Canada, clocks in with a paltry 80–100). This surplus of cyclones is either the best news or the worst news, depending on how you feel.
I was fascinated by tornadoes as a kid, terrified of them after that high school encounter, and gradually came back around to liking them as an adult. But my fondness is mixed with wary caution. I'm the first to the basement when a storm gets rowdy.
If, like me, you are transfixed by these beautiful cones but also sort of want to kill them with fire, I have found a way to satisfy my curiosity without risking my life in a tornado chase: tornado memorials. Our great nation is freckled with tornado memorials — monuments, plaques, even statues — commemorating tornadic events throughout history. Some of these events are straightforward, others bizarre, but each guaranteed to intrigue.
Midwest Tornado Memorials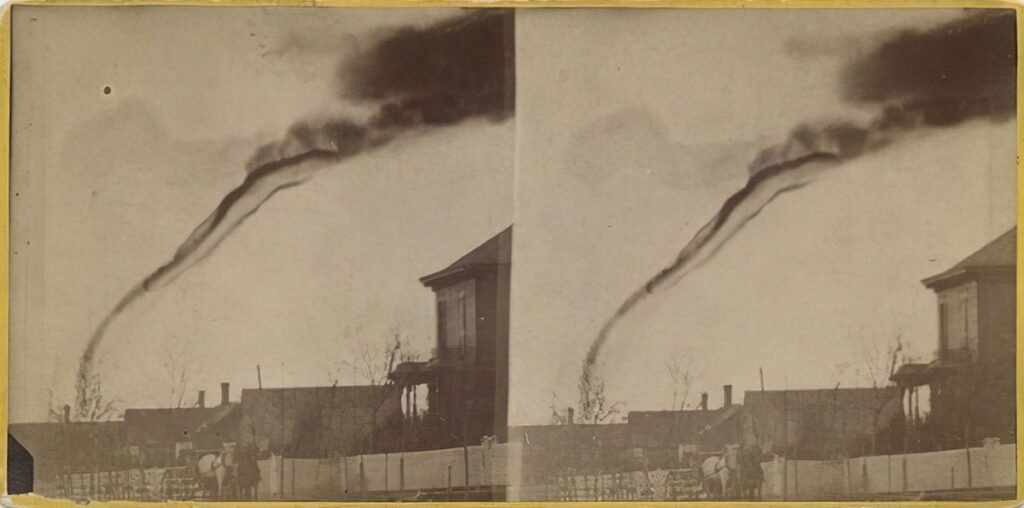 Some people call the Midwest the "Flyover States," which is fair considering that tornadoes do, indeed, fly over us all spring and summer. But when it comes to tornado memorials, you absolutely don't want to sail past this region.
If you dare visit sites that have attracted multiple twisters, start with the late, great Irving, Kansas, home of the real-life Dorothy Gale. Today it's an eerie ghost town of old roads and building foundations, but in 1879, Irving was a sleepy prairie settlement like any other—until the night when it was blasted by two twisters in a row.
Among the dead was a girl named Dorothy Gale. Years later, author L. Frank Baum would read about her in an old newspaper clipping. Struck by the cruel irony of a girl named Gale being killed by a windstorm, Baum borrowed her name for his literary heroine.
If you're inclined to pay homage to either Dorothy at the Irving tornado memorial, leave a note at the mailbox next to the plaque.
Four decades after Irving suffered two tornadoes in a row, the community of Codell, Kansas said "Hold my beer!" and went for a three-twister streak. Tornadoes struck Codell in 1916, 1917, and 1918, always on May 20. Spooky, right?
Codell dubbed May 20 as Cyclone Day and erected a 15-foot metal sculpture of a twister. This metal cyclone is definitely worth the visit (but maybe not on May 20).
In Oklahoma, you can find the site of the very first tornado forecast in history. In March of 1948, a tornado damaged Tinker Air Force Base in Oklahoma and prompted officials to ask the base's military weather officer to develop a tornado forecasting method. In trying to suss out which weather patterns contribute to twisters, the weather officer realized the same patterns that preceded the first tornado were developing again, in the same place, just five days later.
It seemed outlandish, but he predicted a second tornado in the same spot less than a week after the first. Sure enough, a second tornado tore across the base that night, making this the first successful tornado prediction in meteorological history. The freakishly fantastic occurrence is forever memorialized on a plaque at Heritage Airpark on the base, where you stop and salute the memory of this intrepid weatherman.
Midwestern Nightmare Fuel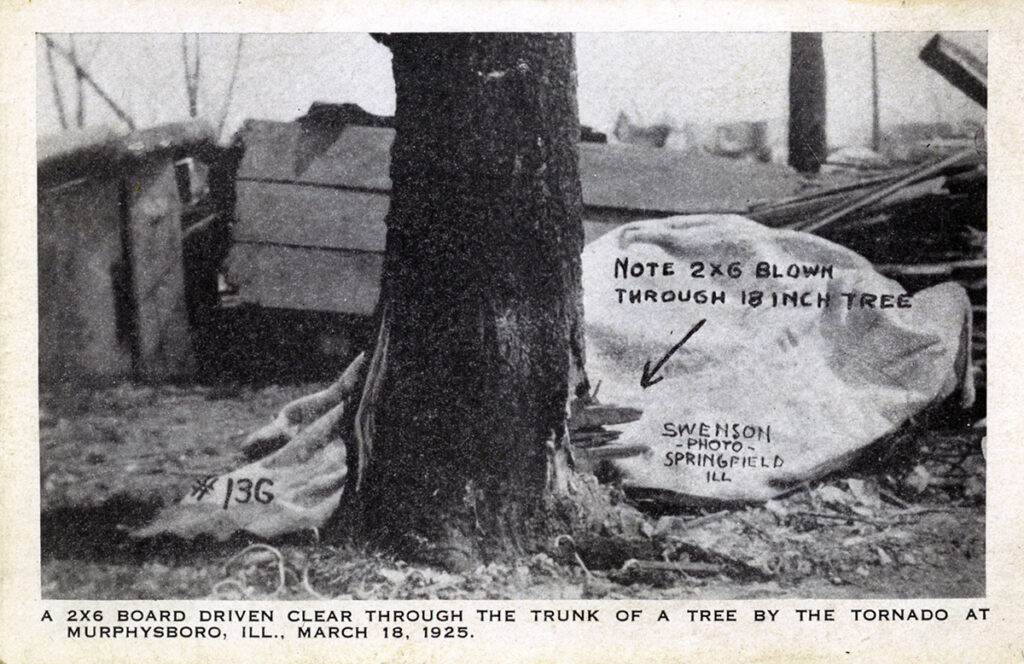 I'm sorry to inform you that fire tornadoes are a thing. A fire tornado is exactly what it sounds like. "Firenados" happen amidst large wildfires when the fire produces a quickly rising column of heated air, and cool air rushes toward it to fill the vacuum. This creates a dust-devil effect, but with flames instead of dust. Even worse, heat from very large fires can sometimes generate a pyrocumulonimbus cloud — a fire-produced storm cloud capable of triggering a firenado on the ground.
On October 8, 1871, the town of Peshtigo, Wisconsin was barbecued by this phenomenon. Major wildfires swept the upper Midwest that day, killing thousands. In his book Storm Kings: America's First Tornado Chasers, author Lee Sandlin uses historical survivor accounts to reconstruct the scene at Peshtigo:
…a gigantic funnel cloud of fire extend[ed] up from the burning forests to the sky. Its heat was so intense that everything around it instantly exploded…on the riverbanks, as the funnel passed directly overhead, may people were consumed where they stood and were instantly reduced to ash. Others were found dead, apparently untouched, but with every coin in their pockets melted.
People above the water burned, people in the water scalded, and at least one survivor was blinded by looking at the funnel.
Today, Tornado Memorial Park in Williamsonville stands as a testament to the indomitable spirit of the survivors. Despite its dark history, it's a pleasant road trip stop with landscaping, picnic tables, restrooms, and a cobbled walkway, reminding visitors of the beauty of Mother Nature in addition to her power.
Even less pleasant is the event memorialized in black stone outside of El Reno, Oklahoma. It marks the spot where three talented storm chasers died pursuing the El Reno, Oklahoma tornado of May 31, 2013.
The El Reno tornado was the largest tornado ever recorded at 2.6 miles wide. Professional storm chasers Carl Young, Tim Samaris, and Samaris' son Paul were chasing this behemoth when it unexpectedly changed directions and caught them in its fury.
Images of the three men are engraved in white on the black memorial stone. This tragic incident serves as a reminder that not even cautious and knowledgeable chasers can guarantee safety near a cyclone.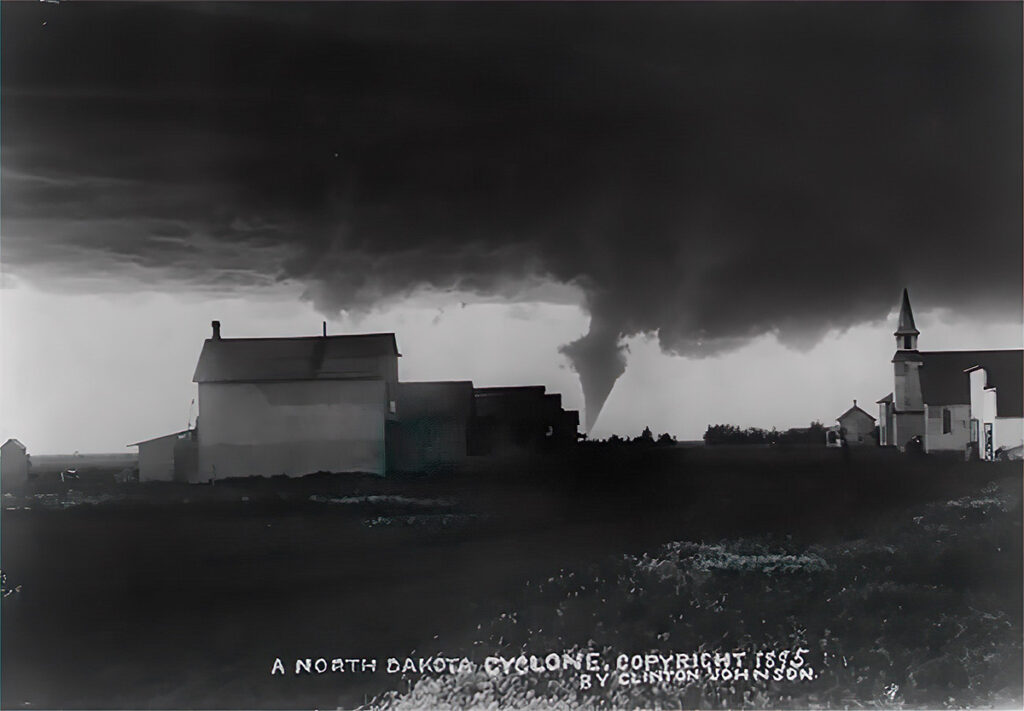 Although the El Reno tornado was the largest ever recorded, it wasn't the deadliest. That title belongs to the Tri-State Tornado of 1925. This monster dropped into Missouri on the afternoon of March 18 and didn't leave the ground for over three hours, incredible considering that most tornadoes last just a few minutes. It killed 695 souls and set the record for the longest tornado damage track, tearing across 219 miles through Missouri, Illinois, and Indiana.
Before it finally vanished, the Tri-State Tornado demolished the town of Griffin, Indiana in Posey County. An Indiana State historical marker in Griffin memorializes the event. Eastern and Southeast Tornado Memorials
It may not pack the punch of the windswept Midwest, but the eastern third of the United States holds its own when it comes to erecting monuments for twisters.
Massachusetts is known for historical sites important to the American Revolution, but it's also home to lesser-known memorials of extreme weather. The pleasant seaside community of Revere, Massachusetts, home to an international sand sculpture competition, has a meteorological claim to fame, too. On July 28, 2014, a brief but extremely ambitious tornado mowed down two miles of Revere homes and businesses in under four minutes, but miraculously no one was killed. A twister that size is no small occurrence in a state far outside of Tornado Alley, and it earned the tornado its own plaque at the Revere City Hall.
Forty miles west of Boston, Quinsigamond Community College in Worcester bears witness to the 1953 tornado that killed 94 people and was on the ground for a whopping 90 minutes. You can find the memorial on campus listing the names of those killed in the storm.
Perhaps one of the most haunting tornadoes of the eastern U.S. was the Rye Cove Cyclone, which hit the Rye Cove, Virginia school in May of 1929 and took the lives of 12 students and one teacher. The school was destroyed, so Rye Cove built a memorial high school in 1930 bearing a plaque with the names of the dead. You can visit it today outside the Rye Cove Intermediate School. The small memorial structure also houses the bell from the original school building destroyed in 1929.
Twisters Out West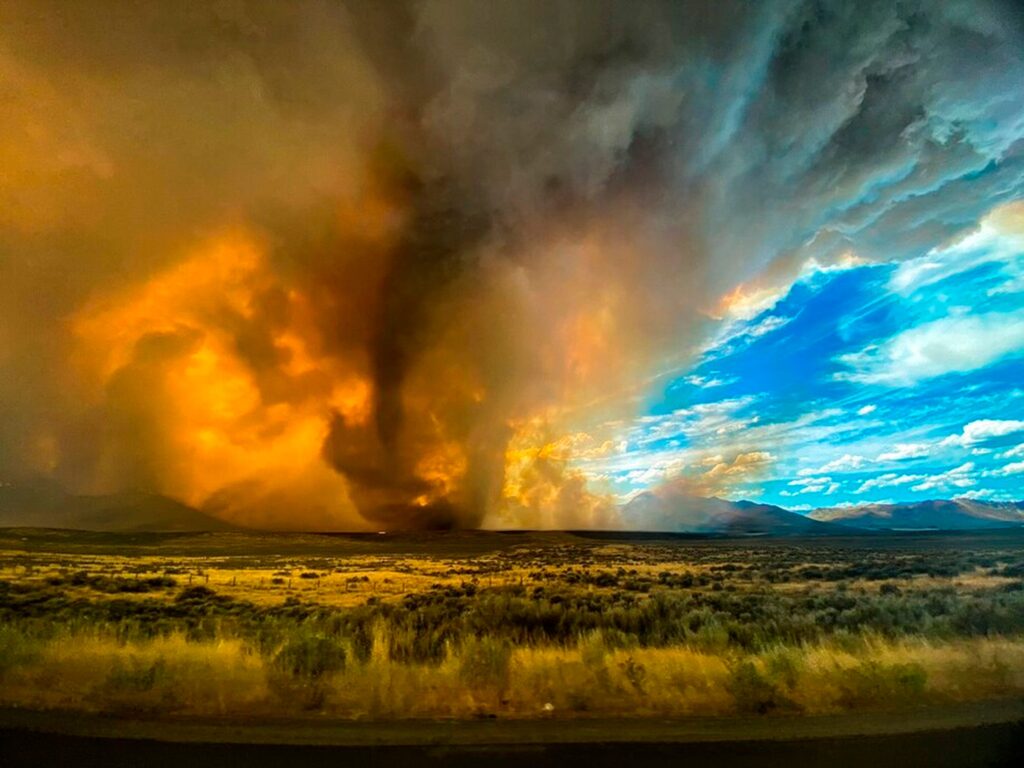 It's harder to find good twister stories out west because the majority of U.S. tornadoes happen east of the Rocky Mountains. But if you research diligently you'll find them!
The Pacific Northwest is not prone to deadly windstorms, but on April 5, 1972, the neighboring cities of Portland, Oregon and Vancouver, Washington were hit by the same twister. Six were killed, 300 injured, and millions of dollars were accrued in property damages. In the immediate aftermath of the tornado touchdown, students and teachers of the Vancouver High School sprang into action to help their fellow citizens recover. Their selflessness moved the community to dedicate a monument stone in their honor, one of the more uplifting tornado memorials you'll find in the U.S.
A similar testament to the power of a post-storm community can be seen in Salt Lake City, Utah. In 1999, Salt Lake City's downtown park was badly damaged when a tornado ripped up dozens of trees in the park's Memory Grove, destroying what had been a beautiful expanse of shade in the city center. Hundreds of residents descended on the park after the disaster to plant new trees. The new Memory Grove is still thriving today. While not a traditional tornado memorial, it is a reminder that life goes on after disastrous storms.
If you're up for a longer jaunt into the beautiful wilds of the western states, visit the Nature's Destruction plaque in Bighorn National Forest, Wyoming. The marker can be found along the Bighorn Scenic Byway — and boy, is it scenic! Gaze down into the large canyon where a 1959 tornado twister cut down a huge swath of trees. Decades later, the clearing is still a visual demonstration of the size and scale of tornado damage.
Find Your Own
This atlas is by no means an exhaustive list of tornado memorials in the U.S., but it is a starting point for the curious. These swirly murder clouds can show up in any of the 50 states and often shape the collective memory of a community for decades. When you visit tourism centers, historical societies, and museums, ask around for the tornado stories that may not be plastered on a sign or made immortal in a statue.
And if on your journeys you see the sky melt into green and the clouds begin to swirl, just remember: you're witnessing a very American phenomenon.
(But seriously, get to a basement.)
---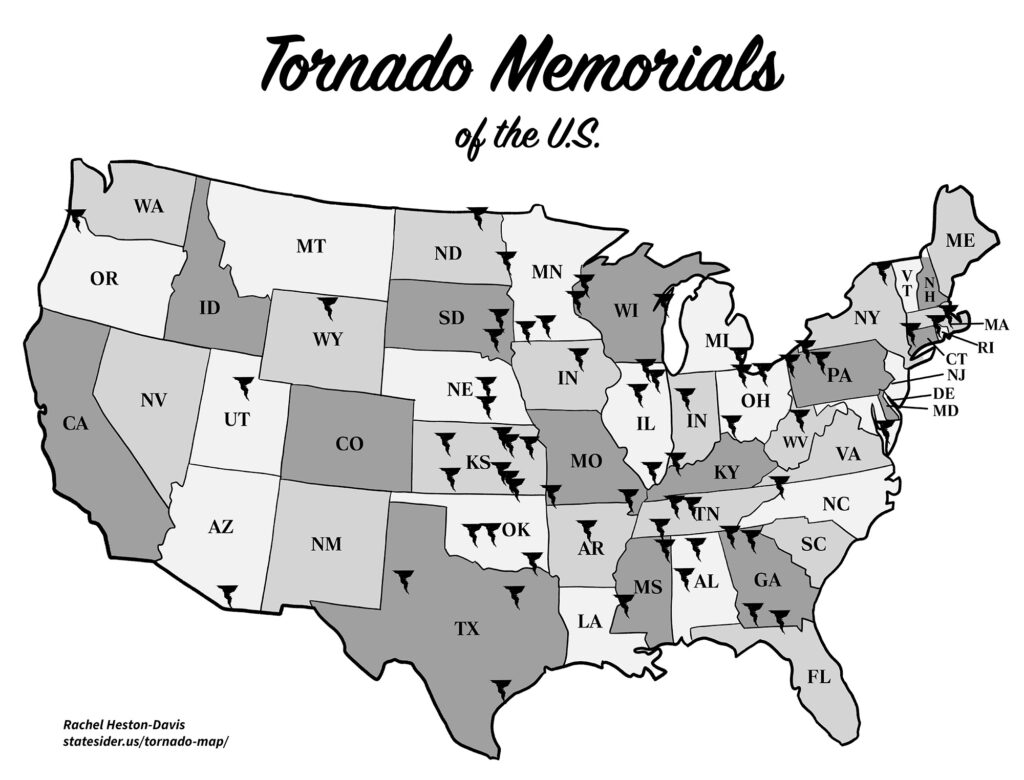 Tornado Memorial Site Listing
| | | |
| --- | --- | --- |
| STATE | MEMORIAL LOCATIONS | |
| Alabama | Limestone County, Tuscaloosa | |
| Arizona | Tucson | |
| Arkansas | Volinia | |
| Connecticut | Bantam | |
| Georgia | Adel, Albany, Clermont, Ringgold | |
| Illinois | Belvidere, Marion, North Utica, Plainfield | |
| Indiana | Griffin, Monticello, New Albany, Petersburg | |
| Iowa | Charles City | |
| Kansas | Andover, Codell, El Dorado, Greensburg, Manhattan, Topeka, Udall | |
| Kentucky | Louisville | |
| Maryland | La Plata | |
| Massachusetts | Great Barrington, Revere, Worcester | |
| Michigan | Chesterfield Township | |
| Minnesota | Buffalo Lake, Tracy | |
| Mississippi | Smithville, Vicksburg | |
| Missouri | Joplin, Kansas City, Poplar Bluff | |
| Nebraska | Grand Island, Primrose | |
| New York | Burke, Red House | |
| North Dakota | Fargo, Langdon | |
| Ohio | Lorain, Millbury Lake Township, Xenia | |
| Oklahoma | Antlers, El Reno | |
| Pennsylvania | Albion, Kinzua Viaduct | |
| South Dakota | Kingsbury County, Spencer | |
| Tennessee | Clarksville, Henderson, Mt. Juliet | |
| Texas | Goliad, Lubbock, Rowlett | |
| Utah | Salt Lake City | |
| Virginia | Rye Cove | |
| Washington | Vancouver | |
| West Virginia | Shinnston | |
| Wisconsin | New Richmond, Siren, Williamsonville | |
| Wyoming | Bighorn National Forest, Shell | |