🗺️In this issue of The Statesider Travel Newsletter🗺️
We've got American maps on the brain: Airline maps, road maps, maps of Indian Country, ghost maps, fossil maps, light maps, meat maps, heat maps and terrible maps. Plus an all-you-can-eat Mexican-American food extravaganza (with maps).
Why We Can't Stop Staring at Airline Route Maps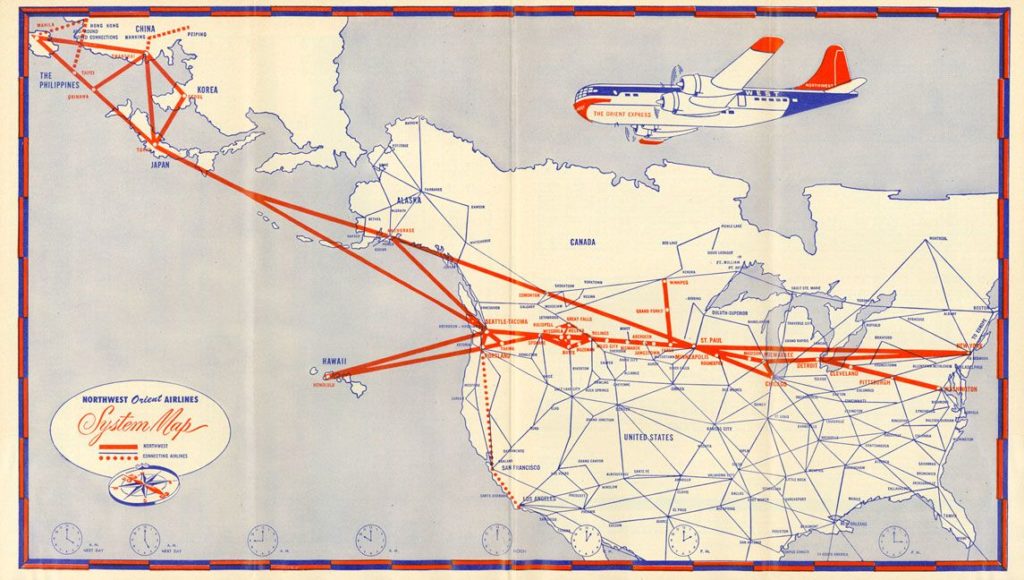 We're taking a bold stance here at The Statesider: Maps are the best. Also: Airline route maps are the best part of any in-flight magazine. As The Statesider's Andy Murdock discovers, route maps aren't just great to look at, they've changed the way we travel. Read the story (and get a load of those maps).
Pack Up the Model T: A 1915 Road Trip Guide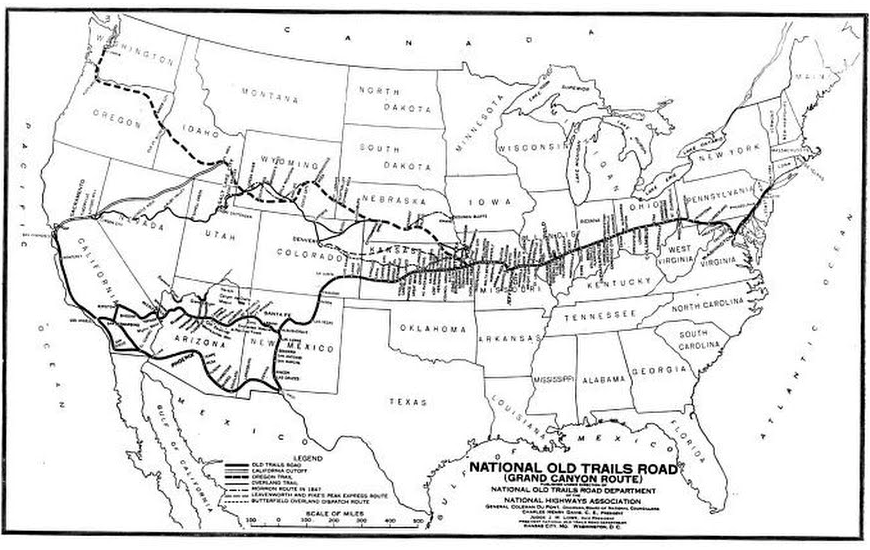 It's 1915—decades before the interstate system or even Route 66—and Travel magazine encourages you to get in your car and hit the road. See America first! Go West, young driver, but also go South and North and East! This (real) story from the archives has all the necessary details. To Kansas City and beyond!
---
Stories (and Maps) Across America
Southwest: Field cartographer Shane Henry has spent nearly 20 years driving some of the most treacherous roads in the Southwest. Ride along as he researches AAA's long-treasured "Indian Country" map. Jim Benning, Westways Magazine (Gosh, if only everyone lived in Zip code 90001 so they could read this great story…)
Wisconsin: "American Gods" showed off the "phantasmagoric labyrinth" that is The House on the Rock, but this weird, wonderful, overwhelming place is no special effect or sound stage. Jennifer Vineyard, Thrillist
Hawaii: You know the sound, especially if you know roots country music. You might not know that particular syrupy sweet sound, those swoopy lazy long tones are Hawaiian. That's the steel guitar—some folks call it lap steel—and it became an essential element in American music. Read the story, sure, but for the full experience, listen to the podcast linked in the article, too. Haleemah Shah, Smithsonian
Los Angeles: Spanish tile and Han dynasty style eaves on the "most LA thing ever." It's a gas station at the junction of Chinatown and a historic Mexican plaza. Remapping LA means revealing the cultural forces that shape this sprawling city. Carolina Miranda, Guernica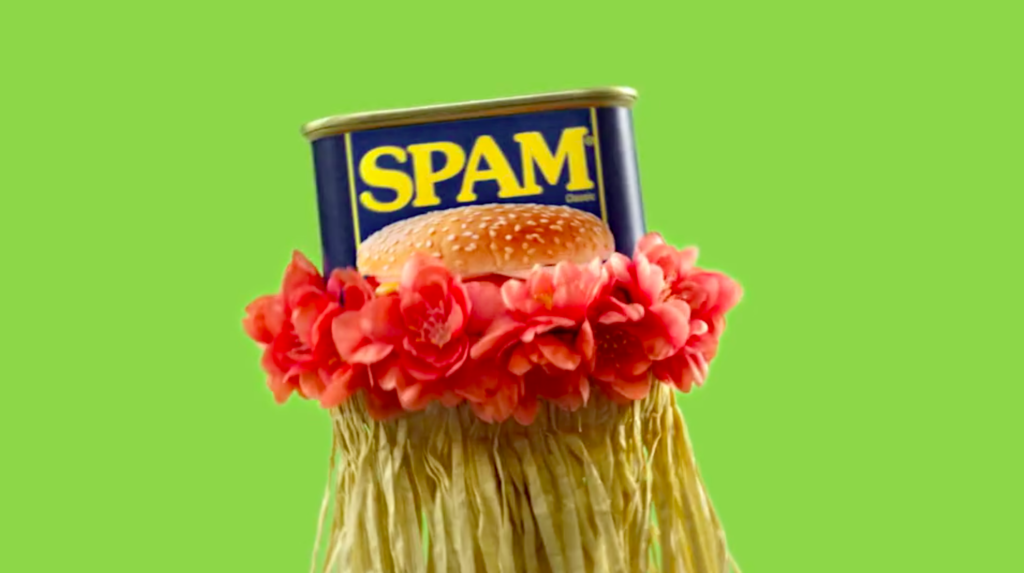 Spam mapS: All you need to know is that this article on SPAM's influence on Hawaii starts with a sculpted relief map of the Hawaiian Islands. Guess what it's made of. April Fulton, National Geographic
Boulder: Documenting climate change through maps, art, and scientific visualizations in a new exhibit at the University of Colorado's Earth Sciences & Map Library.
Terrible Maps: Average jeans color by state. How to find Kentucky. Regional kangaroo ownership laws. Cartographic absurdity from @TerribleMaps (also on Instagram).
Dark Skies: Where is the closest spot for great stargazing? Check this interactive map of light pollution. Hey, wait a sec… What's that spot in western North Dakota that's nearly as bright as Chicago? lightpollutionmap.info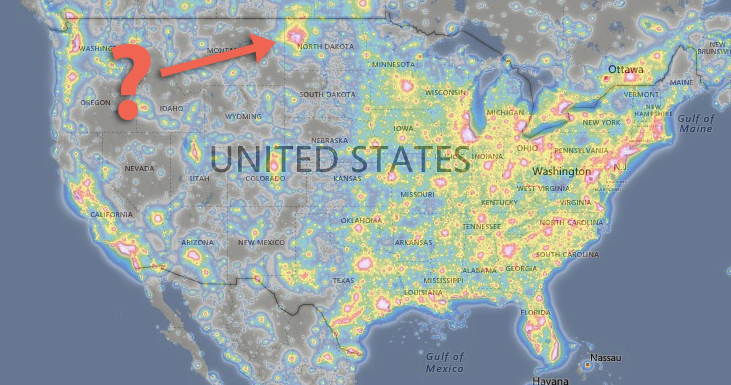 Oh, it's this: A Mysterious Patch Of Light Shows Up In The North Dakota Dark. Robert Krulwich, NPR
Hi. A favor:
If you're enjoying The Statesider, please forward it to friends, share on social, tell the neighborhood about it through a megaphone — you choose your style. It's a huge help to us, and we'll love you forever.
Department of Taco Trucks on Every Corner
Look at these digits: 48 writers, 32 editors, and a full 60 stories. The United States of Mexican Food from Eater is simply an astonishing body of work. A massive buffet, a fresh salsa bar, a build-your-own taco party of stories of Mexican food in its varied incarnations across America. Have we read them all? Hell no. There's 60 articles. Do we already have some favorites? Yes, we do.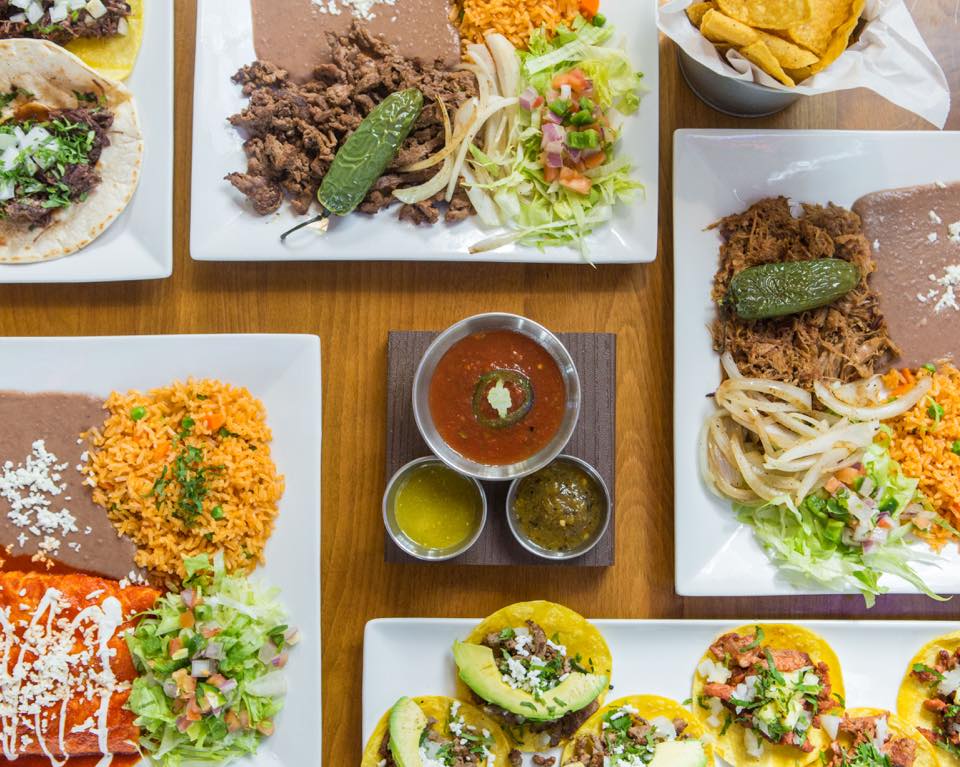 Start with Gustavo Arellano's Welcome to the United States of Mexican Food for an overview of some of the U.S.'s most distinctive regional variations — plus it's got a map. The takeaway: Enjoy them all (except Chipotle, don't do that).
Where next? How about Sonia Chopra's story on California's Punjabi-Mexican cuisine, or José R. Ralat's ode to the Parmesan-dusted crispy tacos of Kansas City, or Sarah Rafael García feeling of cultural loss when she had to give up flour tortillas, or Angelica Rubio's tale of her mother, the first woman to see Jesus in a tortilla. Did we mention there's 60 stories?
---
What We're Reading & Watching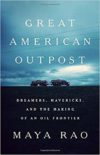 Great American Outpost by Maya Rao. What would it look like if the Gold Rush happened today—the crazed race for wealth, the environmental destruction, the utter disregard for law and order—but most of the country didn't even notice? It would look exactly like the Bakken oilfields of western North Dakota (see the mysterious patch of light in the map above). Rao immerses herself in the culture and characters of the Bakken at the peak of the oil boom, in a piece of nonfiction that reads like a gripping Western. Amazon | Your Local Indie Bookstore
He compared it to arriving in San Francisco in 1848. "This is it," he declared, "this is America." – Maya Rao, Great American Outpost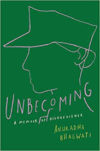 Unbecoming: A Memoir of Disobedience by Anuradha Bhagwati. The daughter of Indian immigrants (and academics), Bhagwati chooses to not to follow in her family's footsteps and joins the Marines. A driven, ambitious recruit, she becomes a leader in a culture that—spoiler alert—is rife with toxic misogyny. As if it's not badass enough of her to navigate the system and excel, she becomes a whistle blower and activist, working to change the entrenched values of the U.S. Military. What's it mean to "support the troops"? Bhagwati has some thoughts. Amazon | Your Local Indie Bookstore
American Commune directed by Nadine Mundo & Rena Mundo Croshere. The Mundo sisters return to the rural Tennessee commune where they were born and lived much of their childhood. The Farm was home to about 1,200 people (give or take) from the early '70s until its transition to an intentional community in the '80s. The documentary takes an unflinching yet kind look at the history and lasting impact of growing up in a utopia that couldn't live up to its own ideals. Amazon
Read more reviews of US travel books from The Statesider
---
In Other News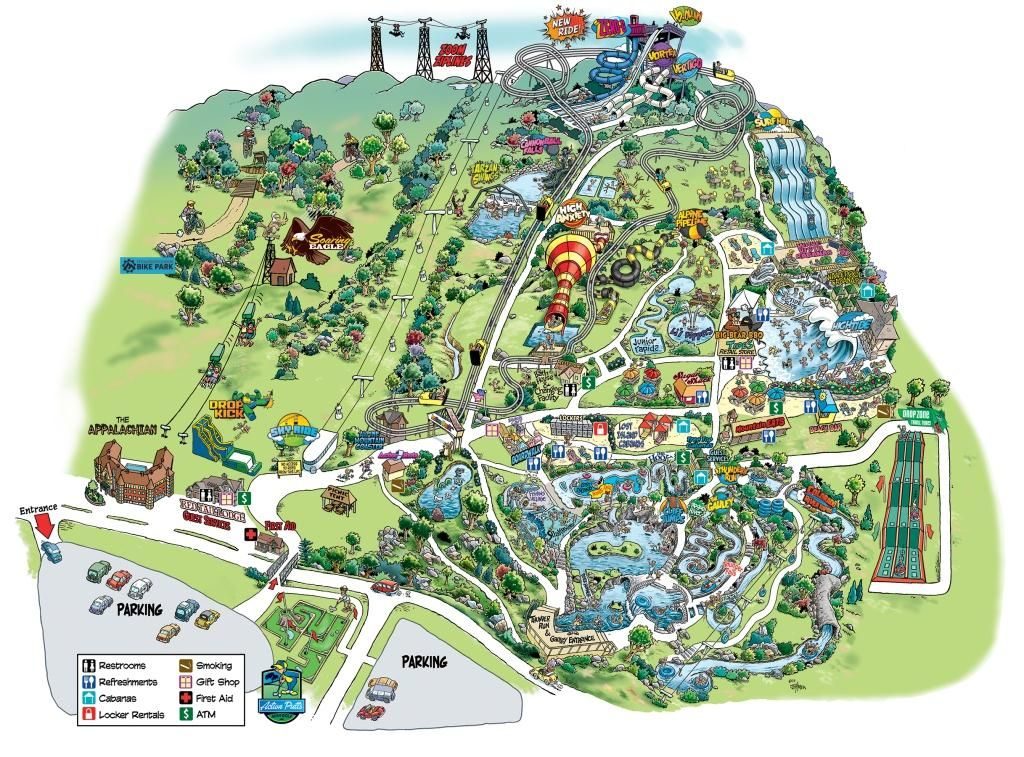 ---
What Rhymes With Winner?
In a previous issue, we put out a challenge to write a short poem about American Travel. The winner of the contest, and a copy of Zora & Langston in return, was travel writer (and poet) Gayle Keck, who graced us with a Haiku of a favorite Kentucky State Park:
My Kentucky Heritage Haiku

Sing of Big Bone Lick
(Hey, you have a dirty mind!)
Home to ancient ghosts

Gayle Keck, 2019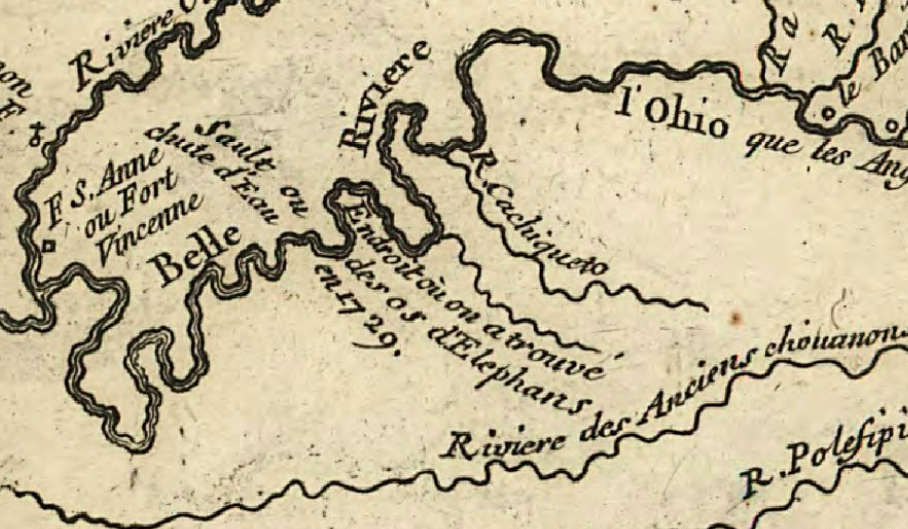 ---
Need directions to more stories about America? Down the hall, turn right, there's a little jog there…