There aren't many late night dining choices in Elko, Nevada. There are a few casino restaurants, redolent with second-hand smoke and the Denny's, up on a hill across the highway. We chose the Denny's as we'd had more than our share of second-hand smoke at our hotel, the Red Lion Casino.
The Denny's was surgical room bright, hardly a place for midnight poets to hang out. There were some truck drivers, a couple of late night road trippers, and us. We sat squinting at each other across the shiny table top. Over all day breakfast, we asked the same question we'd been asking since we started the trip. "We planned six days in Elko? What were we thinking?"
There's a good answer, sort of. My friend Andy and I had decided, on a whim, to attend the 34th National Cowboy Poetry Gathering. The Gathering takes place in Elko every January because that's when work is slow on the ranchlands. And it's in Elko because of its central location in the middle of Nowhere, Nevada.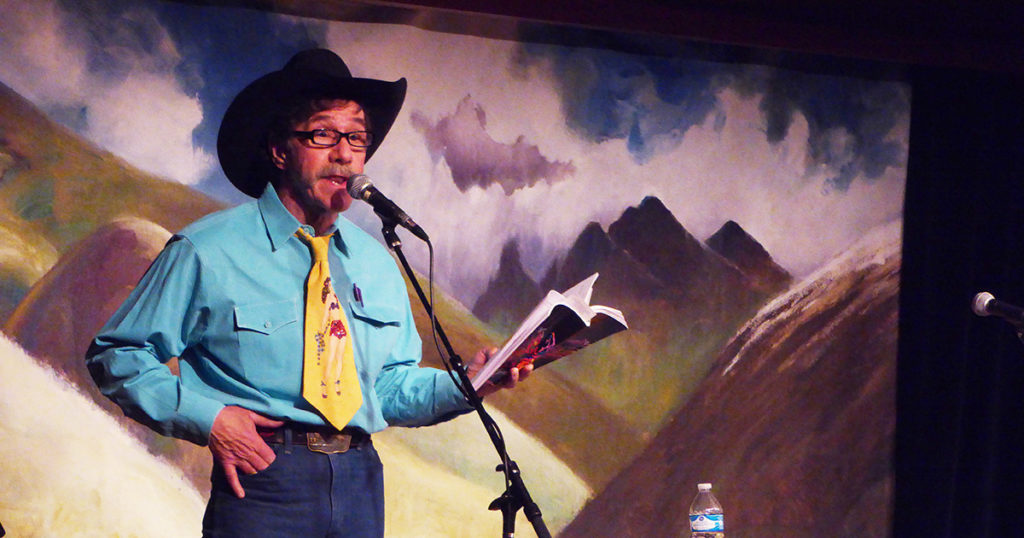 Neither of us are devotees to cowboy poetry. We do not have ranching roots. We are not expert historians in the creative arts of The West – in caps, so as to denote its mythical, iconic status. We are, in every derogatory sense of the word, tourists. Naïve outsiders, curious and friendly, but woefully undereducated in what we're here to experience. And we've been having a great time.
"I love everything about this," I tell Andy, "even the stuff I hate."
"Agreed. One hundred percent."
In the last 48 hours we've sat awestruck while a handful of Elko high school students recite gut wrenching free verse — poems about death and heartache and family — from memory under the quiet, solicitous watch of their cowboy poet instructors. We've rolled our eyes at the beads and fringe on a Hollywood cowboy musical act, and watched a 70-something woman pound the boogie woogie out of an already beat up piano. We've consumed excellent open-faced sandwiches and the worst meal in long memory, both at Basque restaurants. (The rangelands around Elko were once worked by Basque settlers.) We've heard sentimental rhyming couplets about the land, and beat-style free verse about sex and motorcycles. We've heard Rilke and Auden name-dropped by grizzled elders in big hats.
We've been stuck in the snow – "Ya here for the poetry?" asked the strapping snowmobilers who freed Andy's pickup from an icy patch up Lamoille Canyon. I met a cowboy named Sand – "My brother's name is Clay" – and Andy met a woman from a family that's been ranching for 150 years. We had coffee with Becky and David from Cheyenne because we could not avoid them, we ran into them everywhere, including the supermarket, because Elko is not very big. It's legitimately a mystery why they're not with us in the Denny's though it is late – around 11pm – for Elko and the festival events mostly wrap up around 9:30.
At least three times daily – and now, over second breakfast at Denny's – we deconstruct our experience. We try to define cowboy poetry. "It's poetry cowboys like!" said Paul Zarzyski, one of the "headliners" of the gathering. We wonder how many of the poets are Actual Cowboys who work the land on horseback, and we consider the effect of Hollywood on the older generation of cowboy poets, guys – mostly, they're guys – who ran away to join the rodeo as teenagers.
We notice the nod towards diversity – it appears in the African American musician Dom Flemons and Native American chef Nephi Craig, and Ruby Johnson, a mining engineer also known as Miss Elko USA. She's a young black woman who reads Maya Angelou's "Still I Rise" with such presence and power that she seems to channel the voice of the great poet herself.
And we question the lack of diversity – the crowd is primarily white, and when another band assumed we all know the words to a Billy Graham popularized Christian hymn, "How Great Thou Art," I wonder about Jewish cowboys, are they here too? Are they represented?

Our entire time in Elko feels action packed, even when we're just sitting in the Western Folklife Center or at the breakfast counter at the Coffee Mug, an old fashioned small town diner with generous biscuits. Every event we attend, every person we talk with, leaves us chewing over new ideas about the Old West. About poetry and culture and how it finds itself in Elko, Nevada, under the kind hands of these self-declared cowboy poets and their fans. "Ya here for the poetry?" they ask, in the Western wear store and the place that roasts its own coffee and the counter at the bistro where we eat yet another diner breakfast, this time with pancakes that are perfectly crispy around the edges.
There aren't many late night choices in Elko, so we went to the Denny's. We were there for breakfast all day. And the poetry, of course.
This story first appeared in Liv Fun Magazine and is published here by permission.