Go to any tourist town in the USA and you'll see them: fudge shops—or, more likely, fudge shoppes—on just about every block. Their presence here, and virtually nowhere else, is an enduring American mystery. But a leaked transcript obtained by The Statesider sheds new light on the secretive Fudge Shoppe Cabal, its methods, and its mission.
---
SUIT 1: It's been a good year. 

SUIT 2: Fudge-tastic. 

[Mix of nods and eye-rolls around the table] 

SUIT 1: So...let's review the numbers. The good news is we're  holding strong positions. 

SUIT 2: Provincetown, how many shops do you have now?

PROVINCETOWN: Eight.

SUIT 2: Gatlinburg?

GATLINBURG: Nine.

SUIT 1: Ocean City?

OCEAN CITY, MARYLAND: Sev—

OCEAN CITY, NEW JERSEY: Si—

OCEAN CITY, MARYLAND: You go.

OCEAN CITY, NEW JERSEY: No, you.

CAPE MAY: Oh, come on. I'll go. We're at ten here, and we also slash tires outside the taffy shops every few weeks just to keep them guessing. South Jersey, baby!

SUIT 1: I'm not sure we want to condone... [looks at SUIT 2]

SUIT 2: [smirks, shrugs]

SUIT 1: Look, do what you need to do, just don't tell me personally, okay?

SUIT 2 [snickering]: This reminds me — Baltimore Inner Harbor, what's with that new cupcake shop on your turf? You guys use any "Wire"-style tactics on them? 

BALTIMORE INNER HARBOR: We actually try very hard to subvert the violent tropes of life in our city, so we—

SUIT 2: Yeah, yeah, but are you selling?

BALTIMORE INNER HARBOR: Absolutely.

SUIT 2: Come at the king, you best not miss, right? 

BALTIMORE INNER HARBOR [wincing]: Um. Sure. 

SUIT 1: Have you maintained your fudge perimeter in the tourist area, no shops outside it?

BALTIMORE INNER HARBOR: Yup.

SUIT 1: Good. I cannot overemphasize the importance of this, everyone. Say it with me now: Keep the fudge...

EVERYONE: ...In the fudge perimeter!

SUIT 2 [cracking knuckles]: Fudge yeah. Keep it tight. Like Stringer Bell! 

BALTIMORE INNER HARBOR: I just...Can I just say? We're so much more than that. I mean, Fell's Point—

SUIT 1: We get it. But, everyone, why is that fudge perimeter important? Because we need to meet our customers...

EVERYONE: ...in the tourist bubble!

SUIT 1: Exactly. We all know this, it's in the handbook, but just remember that our true product isn't fudge so much as the idea of fudge. We're selling nostalgia more than anything. Cobblestone streets. White picket fences. Carefree innocence. Memories. 

SUIT 2: Motherfudging Proust and shit, you know? 

[Solemn nods all around]

SUIT 2:  Bite into that fantasy and let it get all over your face!

[Solemn nods all around]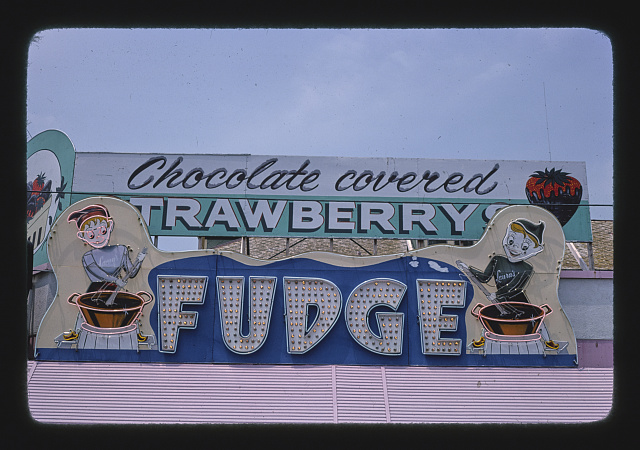 SUIT 1: And seriously, maintain the bubble. Coney Island...Where's Coney? 

CONEY ISLAND: Here.

SUIT 1: You're keeping it tight? Making sure there are no fudge shops in New York City outside Coney Island, right? 

CONEY ISLAND: Me and Cape May, we're working together on this. 

CAPE MAY: [draws finger across throat]

SUIT 1: Uh. Okay. Right. People are in that bubble and they'll do things in that bubble they wouldn't do otherwise. Inside: all the fudge. Outside: no fudge. Keep it that way.

SUIT 2: At all costs. All. Costs. 

CAPE MAY: America, baby! 

SUIT 2 [stands]: Fudge yeah!

[Everyone stands and chants "U-S-A! U-S-A!" except for SUIT 1 and BALTIMORE INNER HARBOR, who exchange pained glances]

SUIT 1: Could we...stay on task.

SUIT 2 [quietly]: Sorry, sorry. Just trying to build some enthusiasm. Help them remember that we're not just any old criminal conspiracy, we're fudge, you know?

SUIT 1 [muttering]: Conglomerate. Please. We're a delectable national conglomerate with millions of satisfied customers. 

CAPE MAY: And we hate taffy! 

EVERYONE: YES.

[SUIT 1 sighs with relief]

SUIT 1: Let's keep going. Mackinac...Where's Mackinac? Take a bow. Tell 'em how many you have now.

MACKINAC: Eighteen shops. Six on one block.

SUIT 1: Great work. Right, everyone?

[Scattered applause]

SUIT 2: We're fudging proud of you. Just make sure...you know.

MACKINAC: We're careful. No one knows it's all the same company. Different fonts in the logos, different color schemes, different carved-wood animals by the door. It's all good.

SUIT 1: Great. It's important for Phase 2. We don't need a repeat of the Wisconsin Dells incident.

WISCONSIN DELLS [quietly]: Sorry, sorry. It's just...we were so proud of the pun, you know? We didn't think anyone would notice.

SUIT 2: You were proud of that pun?

KEY WEST: Uuugh. When he thought of that pun, he texted me all excited and sent that "30 Rock" gif of Tina Fey high-fiving herself.

TAOS: I got that, too.

NIAGARA FALLS, CANADA: Heck, we got it — and you guys always forget about us. 

SUIT 2: We all got it, dammit! It went to the whole fudging group text! You're supposed to save that for actual fudge emergencies!

WISCONSIN DELLS: Look, all I'm saying is, people get a kick out of ordering a half-pound of a nut-filled fudge called "Aw, Nuts."

SUIT 2 [standing]: But did you have to go and trademark it and use all eight stores on the same damn street? No! We have fudge rules! Fudge protocol! What the hell! This isn't taffy.

[Nervous chuckles]

[SUIT 1 gently tugs SUIT 2's elbow. SUIT 2 sits down and crosses arms.]

SUIT 1: We're not mad. We're just a little disappointed. Look, Dells, a fudge...conglomerate...has to work together? We need people to believe we're all independent mom-and-pop shops. Keep our eyes on Phase 2.

SUIT 2: You know what could've happened? Taffy could've found out and ruined us before Phase 2!

SANTA MONICA: Can I jump in here? I love everyone's enthusiasm but, actually, I just wanted to offer a few more ideas for really owning the tourist sugar-intake space.

[Opens iPad presentation as everyone else groans.]

SUIT 1: Santa Monica, we've been over this. We're not interested in — 

SANTA MONICA: We need a product you can Instagram better. I'm thinking, like, rainbow-colored fudge with potato chips and pretzels and Cap'n Crunch. Like, Christina Tosi but completely insane.

SUIT 1: This is certainly a departure...

SANTA MONICA: We call it Wrecked Unicorn Fudge. Wrecked. Unicorn. You know? Hashtag that, right? And we make it Paleo.

TOMBSTONE: I like it!

SUIT 2: I fudging hate it.

TOMBSTONE: I hate it, too.

SUIT 1: I'm worried about breaking the bubble. Again, our core selling points are predictability and nostalgia. That's it. We want people to have that moment of seeing the fudge being made by teenagers in white paper hats and remembering the idyllic childhood they never had.

SUIT 2: Let me repeat: motherfudging Proust. And taffy. They know what's up. Those bastards and their fancy machines. 

SANTA MONICA: What about fudge you can vape?

SUIT 2: Are you out of your fudging mind?

SANTA MONICA: There are no bad ideas in brainstorming!

CAPE MAY: That's a bad idea.

[A brief argument fills the room]

SUIT 1: Please, please. Everyone calm down. I need to reiterate, our research indicates that if people talk about fudge too much outside the tourist bubble, well... 

[Silence]

TOMBSTONE [head in hands]: They don't actually like us. They don't...actually like us.

SUIT 1: They do like us. Just in the bubble. Focus on Phase 2.

TOMBSTONE: So about that — I feel like I'm out of the loop. What exactly is Phase 2?

SUIT 1: We'll let you know when the time comes. Don't worry about it.

TOMBSTONE: But...everyone else knows about it?

[Everyone but Tombstone exchanges meaningful glances.]

SUIT 2: Soon, Tombstone. Really fudging soon. We just need a few more stores.

MACKINAC: Working on it!