Bryce Canyon in Winter is a quiet place. A place of deep history for Andrew Evans and his family. When Evan's father's gets a new camera the pair take the chance to sift through Utah memories and embrace a shared love of photography.
---
Sunrise Point was closed, I assumed. The sign on the locked gate was buried under a mountain of snow shoved there by a hurried plow, but beyond the crumbly snow pile lay undisturbed whiteness, like rolled fondant waiting to be draped over a wedding cake.
"We can reach Sunset Point or Inspiration Point," I said, reading the paper map the park ranger had given me back at the entrance.
"At my age, I'd rather be inspired than sunsetting," said my dad, turning the car around and heading back over our own tracks in the snow.
"Inspiration Point it is," I nodded ahead. "Turn left at the sign."

---
The only other family in the parking lot was just leaving, driving a rental van from far-off Vegas, Italians on their big American parks vacation—but in coldest December. They meowed against the intense wind, rushing from the icy viewpoint back to the heated vehicle and sliding back to the road, towards the exit, towards manmade comforts. My dad and I did the opposite, pulling on gloves, tightening hoods and tying scarves around our faces before shuffling our toes on the hardened ice that stretched all the way to the trail.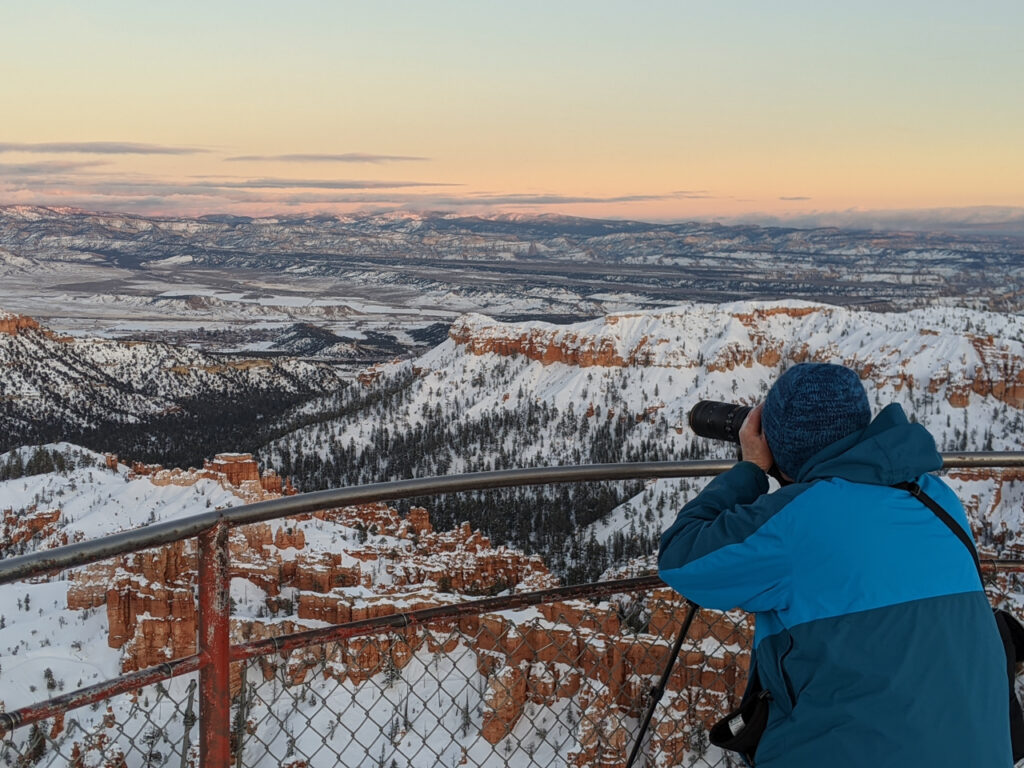 This was the view we had come for — Bryce Canyon in winter, stalwart red-orange rock towers, painted with top-heavy snowdrifts and framing a powder blue sky. More silence than either of us was used to. A crow flopped down from a spruce tree.
"There it is," I said, speaking into the void of the landscape and verbalizing the punctuation of travel — underscoring the achievement of arrival but perhaps also, subconsciously, assuring myself that it was still there. The most beautiful hole on earth, written by time, far superior to the canyon called Grand, a place I knew from childhood and the stories of my own ancestors who came to the region over 170 years ago.
"It's beautiful," my dad spoke back to me, his breath puffing out over the railing, suspended over a thousand-foot drop.
"Yes," I spoke the obvious again, then together, we began the careful step-by-step climb up the slushy trail to Inspiration Point.
---
Our trip began as a voicemail from my dad: since I was coming to Utah for a visit anyway, and since he had just purchased a new camera, why don't we head out somewhere pretty and take some pictures? That turned into an impromptu 4-hour run to southern Utah, after which I suggested we just spend the night.
"The best light is gonna be at dusk and dawn, Dad," I said. "It makes no sense to come all this way and miss the good light." He agreed, and doing the thing my mom always did, he tried calling ahead to make reservations at the lodge.
"They said we don't need reservations," he told me. "They have plenty of room."
Plenty of room turned out to be total vacancy, which I only discovered after assisting the blonde park ranger in her attempt to break into the main lodge.
"Nobody's answering the phone," said the young ranger, so we high-stepped our way over the snow hurdles and knocked furiously on the door without a response. Together, we learned that the main lodge was closed until the warmer greener spring, but the smaller Sunset Lodge had been waiting for us. The reception doubled as a little winter supplies shop, selling hand and foot warmers, cold and flu medicine, hats and gloves, and various assortments of fudge. Something about those cellophane packages of fudge made me wistful, the kind of naughty and comforting indulgence we splurged on as kids, only during family vacation, when the normal rules did not apply.
---
Technically, I was back on family vacation, only this time, it was winter, and it was just my dad and me. My eight other siblings were far away, mostly in Utah or Texas, my one brother buried just five months before, lost to sudden cancer, and then my mother—my mother who loved Bryce Canyon more than any other national park, my mother who booked rooms at national park lodges a year in advance—she had been dead over two years now.
My dad and I did not go to the cemetery to see my mother's grave ("She's not there," my dad once commented), but instead we drove 200 miles to Bryce Canyon. We drove across the barren center of Utah, through the town of Beaver, where my own grandmother was born in 1912, through Iron County, where my Scottish ancestors homesteaded back in 1851, and into the red rock canyons that my mother loved. She loved warmth and dry air and the desert. She loved horses and the Rocky Mountains. As a teenager, she worked summers in Grand Canyon, cleaning rooms at the lodge and saving up for college while hiking up and down vertical miles of trails. But Bryce Canyon was her favorite, she always said, "Bryce is the best of all the parks," and I never had reason to question her judgment.
As an adult, and a working travel writer, I always said the same thing, as if Bryce Canyon was a long-kept family secret, the indie alternative to the mainstream appeal of Grand Canyon. Only very recently, when I overheard a conversation at a café in Bordeaux, spoken in French, "Bryce est le meilleur de tous les parcs," did I consider that perhaps our family secret had gotten out. Perhaps even I was to blame for the impossible summer crowds that now plague Bryce Canyon in the hottest part of the year. They don't even allow personal vehicles to enter in high season — instead, visitors are herded onto buses that make stops at viewpoints and places of interest, the power of nature relegated to a series of bus stops.
The last time I was in Scotland and told them proudly which part of the Highlands my family came from, I was informed my people were tight-fisted cheapskates. Travel teaches you things about yourself.
But not in winter, standing atop a dramatic sandstone pinnacle, admiring the grandeur of the "Amphitheater," which seems the closest to capturing infinity in stone. I set up the tripod for my dad and clicked his camera into place, then helped him down to his knees.
My dad doesn't need my help — not for getting around and not for photography. At age 76, he's more able-bodied than most. He works out every day at the gym and can leg press more than me. But at my age (44), one starts worrying about one's parents falling over, slipping on ice, snapping bones. I think about how frail my own mother got, and imagine that back in the Eighties, she was worried about all of us kids falling over the edge. I cannot imagine how she kept track of nine of us, enthralled by the abundant nature, high on souvenir fudge and thin air, racing along the cliff tops, ignorant of the drop-offs and what happens to kids with less careful parents.
"The sign there says 'Watch Your Children'," my dad said, "So I'm watching you, Andrew. Show me what to do."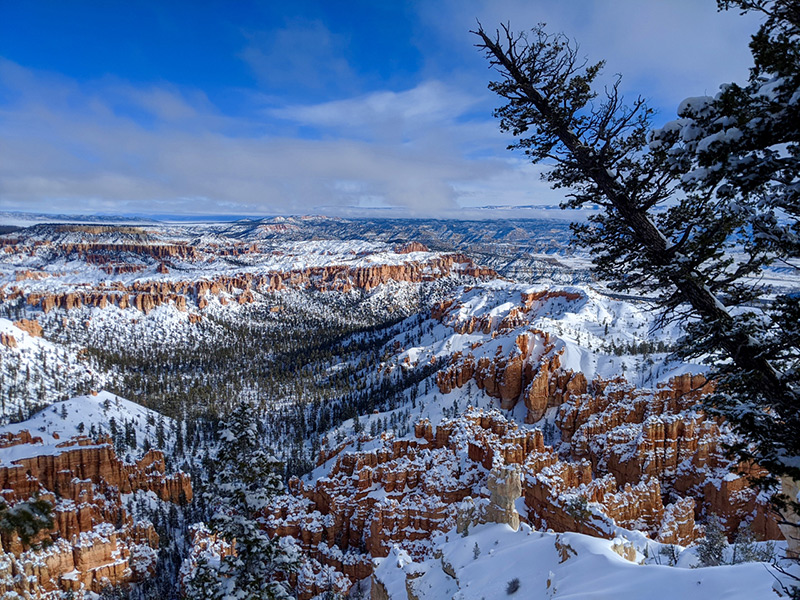 But my dad doesn't need any photography tips from me. He's the one who taught me. He's been shooting semi-professionally since the mid-1950's, when he was the sports photographer for his high school. He taught me about light, about color, composition, and exposure — once he shot two rolls of film, all of the same frame but different shutter speeds, just to show us kids the difference between 1/30th of a second and 1/2000th of a second.
My dad also taught me that no good camera was too expensive. Both he and my mom were incredibly frugal, saving up all year for our family vacations out west, but my dad seemed to always find a way to purchase the latest Canon or the latest, fastest lens to go with it. On Sundays, after a long morning at church, we spent the afternoon hours sitting in the living room, watching my dad's elaborate slideshows of pictures he had taken — our births, our soccer games, our own personal histories, documented on slide film and projected onto the mint green wall behind the piano.
No family history is politically correct, but at least I know mine, because Mormons write everything down. I've been keeping a journal since I was three.
Nothing would ever replace slides, he taught me, and the very first photographs I had published were submitted on very expensive Velvia slide film. Now we have pixels and megapixels, and together, my dad and I shot raw photographs at Inspiration Point that were so big, we could project a slideshow for an IMAX theater. Dusk was already upon us. A few other brave photographers joined us, took a few snaps, then left. But my dad and I stayed, looking out, warming our hands in gloves, then going back to the camera, trying to capture the unseen part of America — the untouched wilderness that can never quite be captured, even with pixels.
In less than an hour, the temperature dropped from around 31 degrees to about 7 degrees Fahrenheit. The evening melted into indigo blackness, with the neon blue glow of the undisturbed snow. Holding my dad's arm, we crept back down the hill, now solid with sheer ice. At 8,100 feet altitude, both of us felt winded, so that every few paces we stopped for breath. Standing next to a knotted, winding juniper tree, I plucked a dark blue berry and crushed it with my bare fingers.
"Smell this," I told my dad, holding my hand to his nose. The smell of gin, of pine, of bark and sap and bright evergreen resilience.
"Yum," he said. "That's nice."
The white moon floated up from the horizon and lit the path. I knew the stars would be good tonight — we had the gear and a tripod to do some fun star shots—but I also knew that both my dad and I were cold. It was nice to remember that tonight I wasn't working — that I didn't have to get the picture — instead, my dad and I could simply watch the stars, be awed for a moment, and then climb back into our car and be warm again.
We stayed two days in the park, exploring anywhere that had been plowed. Then we headed back north, turning off the interstate to take 89—the road less traveled.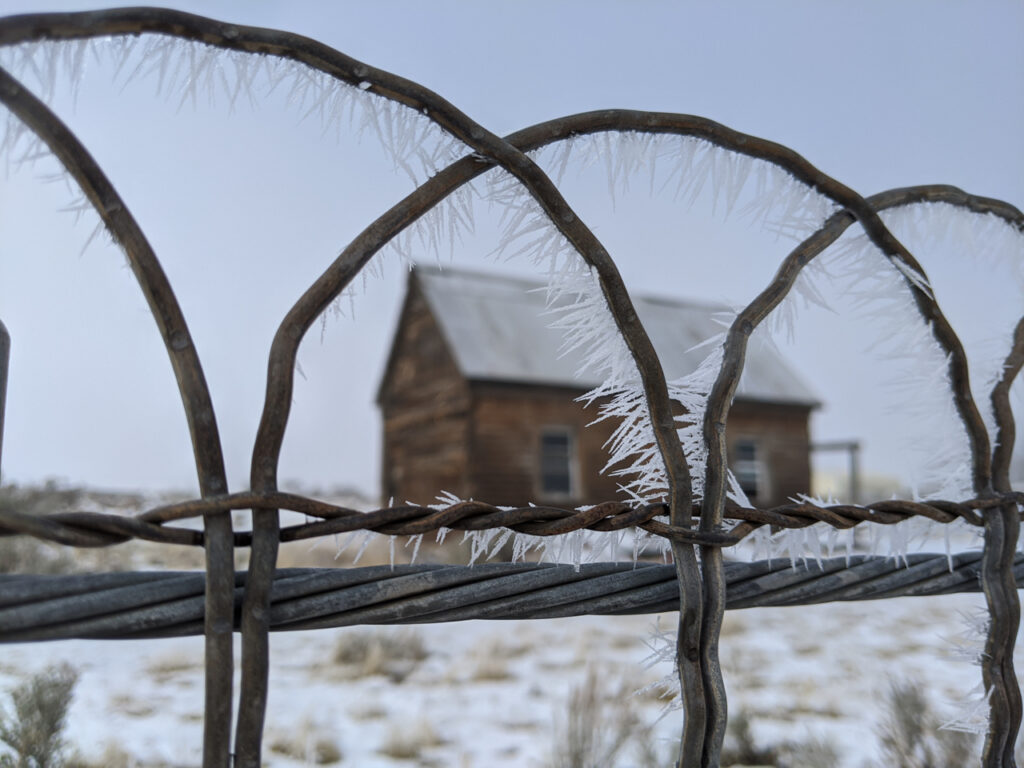 "It's longer, but a more beautiful drive," said my dad, and together, we took our time exploring south central Utah, rambling past beige and lavender mountains, scrubland dotted with sage, and black and brown cows, exhaling their cow breath into the whitewashed sky of fog and falling snow. The stoic pioneer cabins tucked back into the far mountain valleys seemed far more isolated than I considered possible in America today. I made us stop at Butch Cassidy's boyhood home, and while my dad stayed in the car, I paced the one-room cabin, feeling the wind blow through the cracks in the wall, taking in the childhood of one of America's greatest bank robbers, feeling that this was how my own family had once lived — Mormon pioneers, building their Zion up in this dry and lonely place in the west.
"Your great-great-great grandfather had six wives," my dad said, miles later.
"Thirteen," I corrected him, because I've done my own research. My dad has written out our complete family genealogy going back 17 generations, which is quite a task when you throw polygamy into the mix. Some Mormons are uncomfortable with that past, but not me — it's part of who I am. Polygamy is our family history and it's why I have this strong personal connection to Bryce Canyon and the surrounding region.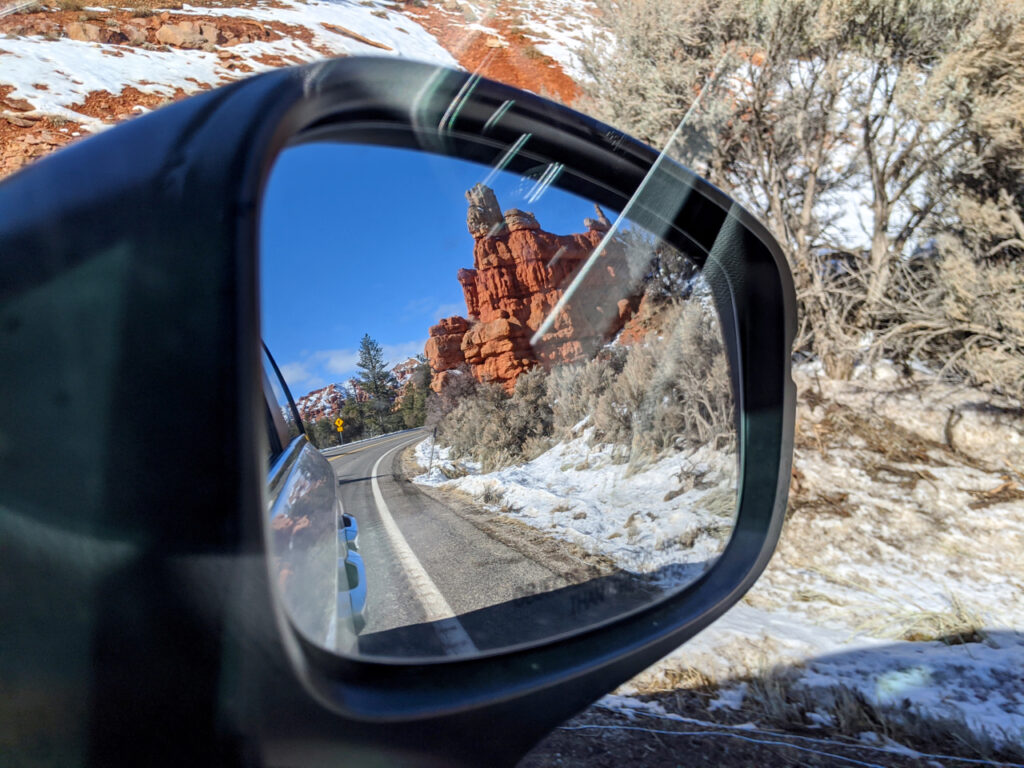 Back and forth, as we drove back over wintry Utah, my dad and I swapped family stories, what he's heard and read, what I found in such-and-such out-of-print book — stories of children as young as six, armed with rifles, guarding the family food storage from starving Paiute or aggressive Shoshone. The Navajo adopted into our family and the fortunes found and lost in the hard-knock life out on the Great Basin. No family history is politically correct, but at least I know mine, because Mormons write everything down. I've been keeping a journal since I was three.
After Richfield, our conversation swayed from polygamy and the Wild West to my dad's latest hobby, geology. He nodded to the textbook on the dashboard and told me which page number to read out loud, a section claiming the entire Wasatch Front is built on a huge precarious fault that will rumble into some catastrophic seismic event, even perhaps in our lifetime.
"My friend who's a geologist," said my dad, "He's from Utah, but he won't live here — says it's too dangerous." He laughed a little, because he had just made this geologically-threatening landscape his new home, marked almost scientifically to be equidistant from all the grandchildren. Now that my mom is gone, his life is driving up and down I-15 checking in on the family that are scattered all across this impressive mountain chain.
---
A week later, we're sitting in a Nepali restaurant in East Salt Lake called "Kathmandu", staring at a gaudy painting of another mountain chain — the Himalaya. We're having dinner with my aunt before I head off to the Salt Lake Airport. My Aunt Jeanie who is my mother's younger sister, my Aunt Jeanie with angel white hair, who resembles my own mother in faint mannerisms — who carries that same Celtic tone that makes her Utah accent sing, who laughs joyously, who is a 20-year survivor of lymphoma and about as resilient as they come.
Aunt Jeanie likes the butter chicken, but bemoans the gentrification of Utah, "We used to be 2 million, now we're 3.2 million. That's why we have all these high-rises everywhere."
My dad tries changing the subject to football, but the University of Utah just lost to Oregon. Nobody wants to remember that.
"What I want to know, Jeanie," he grapples for conversation, "Is how Scottish are you? Do you cut open the tube of toothpaste after it's all been squeezed out?" My mom used to do that — and my grandmother, too. The last time I was in Scotland and told them proudly which part of the Highlands my family came from, I was informed my people were tight-fisted cheapskates. Travel teaches you things about yourself.
"Yes," my Aunt says matter-of-factly. "I do that, but not with toothpaste. Just lotions and face creams. You can get a lot more out of it if you cut open the tube. I will tell you, I have cut open the tube and found enough lotion to last me for weeks more."
I make a mental note to slice open the tube of men's anti-aging cream I bought online. It's crazy expensive and feels like it's about to run out.
My aunt goes back to the tragedy of Utah's overpopulation, "They're going to close the national parks," she says, "Way too many people visiting them nowadays, and they're just ruining them. So they're going to close them forever." In addition to being Scottish and cheap, perhaps my family tends towards the melodramatic.
My dad cuts in, "Jeanie, I counted four other people when we went to Bryce Canyon last week. Five if you include the ranger we met. So it's not exactly overrun."
Then my dad shows my aunt his pictures — beautiful pictures he has taken with his fancy new camera, pictures of wide-open southern Utah devoid of people and manmade structures, only snow on sandstone, trees on sky. Now that we are grown, now that my mother is gone, this is what my father is collecting — beautiful pictures, a place in time, the point of inspiration and the whiteness of a landscape left alone after a silent night of falling snow.
All photos copyright Andrew Evans, 2019.
Read more from Andrew Evans on The Statesider: How to Write a Country Music Song