Debra Smith followed the song of the washboard all the way to Logan, Ohio, home of the last washboard maker in America. She found more than American history; she found an American original that has a sudden new relevance.
---
One major benefit of marrying a musician is that you hear a lot of music that you might not run across at your local bar. My husband introduced me to the sweet, tangy sounds of zydeco sung by Clifton Chenier, dragged out of a keyboard accordion, and keeping two-step time to the clickety-clack of a washboard. We danced around the kitchen and dreamed of New Orleans. There's still nothing like zydeco to make me want to shake my hips.
Chenier, the King of Zydeco, was born in Opelousas, Louisiana in 1925, 150 years after French-speaking Acadians called Cajuns relocated there from Canada, and 30 years after the founding of the Columbus Washboard Company in 1895. Chenier is credited with liberating the crimped inner tin plate of a washboard to create the vest frottier. He gave it to his brother and band mate Cleveland, who made the frottier famous, tapping out his metal melodies with bottle openers clutched in each hand. It's an original American invention, just like the washboard.
It was the love of the music that brought me to the Columbus Washboard Company in Logan, Ohio, in the spring of 2020, just before COVID-19 put us all on lockdown. What I found was a different tune entirely: an unexpected story of an American company rescued by an Englishman, run by a staff made up entirely of women, providing an essential service during a modern crisis.
The Columbus Washboard Company is busy. It hasn't had this much business since the second World War. During that time, there was a staff of over 100 and the company sold around 1.4 million washboards a year. Metal shortages caused the company to investigate the use of glass instead of tin and they soon discovered it had an advantage over metal. It didn't rust. So, since the 1940s, the company has made galvanized, stainless steel, glass, brass and some traditional tin washboards in Family, Pail and Travel sizes. It is the last remaining washboard company in the USA.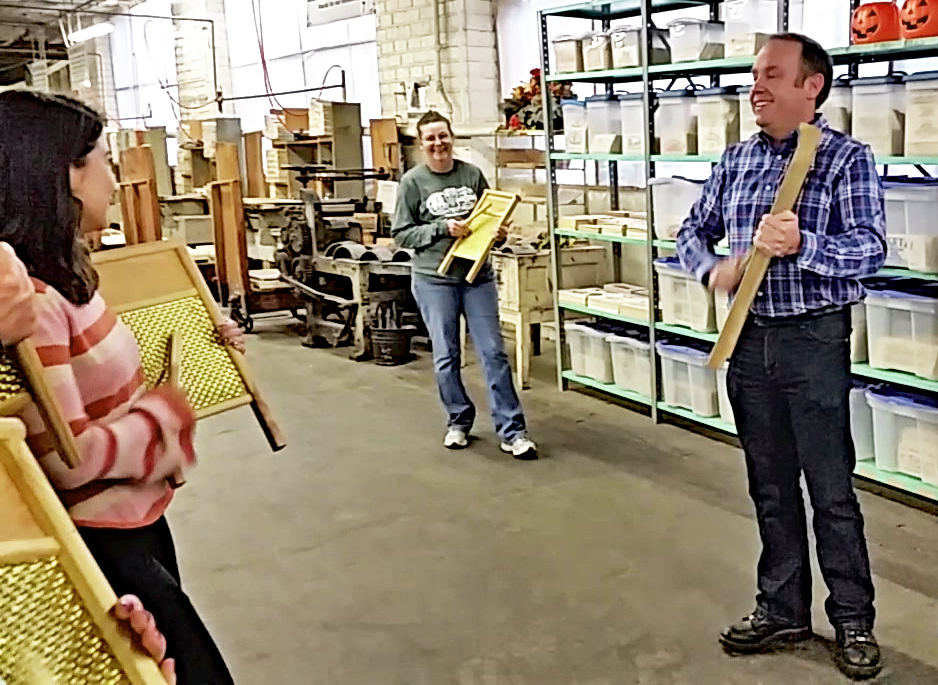 Although washboards are often used for decorations, one of the current owners, James Martin, always intended to maintain their primary function.
"You can't invent history like this, that's what keeps us going. This is a genuine, practical item made as authentically as we can, which you can also use," he told me. "There's no point in making something that doesn't have a practical use. That was my vision anyway."
Martin had this vision in 1999. At the time, he was a soap manufacturer in England, with a natural interest in washboards. He often sold them together with his soap, to people who were into hand washing their fine linens. Washboards have a number of different "grades" to their ridges, from smooth to spiralized, suitable for everything from lace to denim. One morning his company received notification from the family members of the Columbus Washboard Company that it was about to close. By Friday of that week, via a flurry of panicked emails, he became an owner. Washboards proved to be such a hit in England that he was soon on his way to live in Ohio, a place that he had never even visited.
Martin was convinced that washboards were more than a novelty item. And he was right. In places where running water might be scarce and electricity is unavailable, washboards are a lifesaver. They were used by prospectors during the Gold Rush, and are used by people today who live off the grid, and in places suffering power outages because of storms, earthquakes, or tornados. The company also ships washboard and soap kits to US troops overseas through a donations program. And washboards are coming in very handy during our latest emergency, when people are reluctant to share laundry facilities.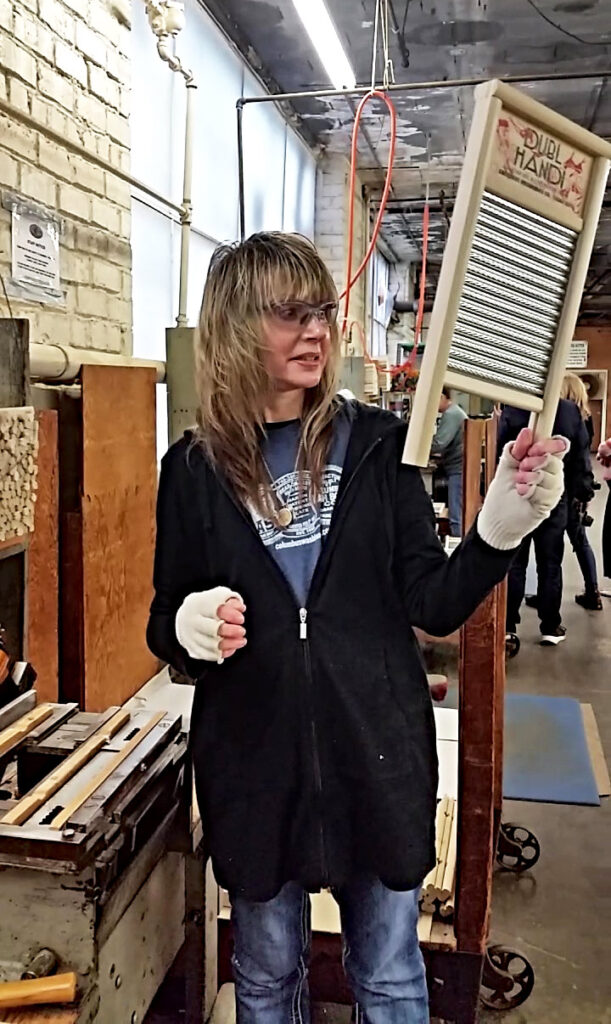 "Our sales have gone from dozens to over a hundred orders a day," says factory manager Marissa Fickel. "We're busier than we've ever been, at least while I've been here." The small but dedicated staff of eight women has been stretched to the limit due to the pandemic, turning out washboards by hand using original turn-of-the-century machines, upgraded by the addition of some modern technology. Assembling a washboard from pre-cut finger-jointed wood and metal or glass inserts takes about 30 seconds in the hands of a skilled craftswoman.
When it comes to the musical side of things, the reason I was there in the first place, the factory has that covered too. The company is instrumental (sorry) in organizing the annual Washboard Music Festival that runs every Father's Day in Logan, although this year's event is postponed until 2021. All washboards can make music if you want them to: There's no difference in the way that a musical washboard or a regular washboard is manufactured. The magic happens when musicians customize them by tacking on things like tin cans, triangles, or tambourines. Each one becomes a work of art, as unique as its owner. The factory also sells pre-made musical washboards, but after the pandemic is over even regular washboards have a chance at a musical transformation. We won't be needing them for laundry quite so much.
Meanwhile, I'll be dancing in my kitchen to Greg Wilson of the Carolina Chocolate Drops, and David Langlois of the Blue Vipers of Brooklyn. And I might just grab some thimbles, bottle openers or a soft corn brush to play along until we can all meet again and laissez les bons temps rouler. Of course, I bought a washboard.
All photos by Debra Smith, 2020